JAMES TAYLOR: LIVE AT THE BEACON THEATRE
Reviewed March 19th, 2000 by Andrew Stoakley
Plot

Well, this section doesn't really apply to this DVD; however, I will tell you a little bit about the events surrounding the making of this disc. "James Taylor: Live at the Beacon Theatre" was recorded live on May 30th, 1998 at the legendary New York theatre, The Beacon. This concert was broadcast live on PBS, making it the first ever-live airing of a concert on the publicly funded television station. "James Taylor: Live at the Beacon Theatre" contains 25 of James' personal favorites including: "Fire and Rain", "Mexico", and "You've Got A Friend." This DVD was engineered and produced by Frank Filipetti, the man who engineered and produced James' 1997 two times Grammy award winning record "Hourglass."


How Does The Disc Look?

This DVD looks stellar. Crystal clean, crystal clear and so detailed you can see the beads of sweat dripping off of James' bald cranium. Shot on digital video and in 4:3 (would have been nice to see it shot in widescreen), this DVD comes jumping out of the screen at you with vibrant colors and sharp, sharp, sharp focus. That's about it with the video portion, now onto the audio!


How Does The Disc Sound?

Wow! This disc sounds spectacular. Produced by James Taylor and Frank Filipetti, audio was definitely not second fiddle in this production. Presented in both Dolby Digital 5.1 and 2.0 the 5.1 mix is the better of the two, which is not to say that the 2.0 is anything to sneeze at. James' guitar is bright and clean, and you can hear every string plucked and strummed. The rest of James' band mix is perfect. There really is no other way to describe it or to detail it other than to say, go buy this disc, turn the lights down real low and just mellow out to some fantastic music


What Extra's Do You Get?

There are a few extra's to be found on this DVD, here is a complete list of them:
- Lyrics in both English and French
- Interactive menus
- Instant access to specific songs
- Complete band bios
- Great behind the scene interviews
- Complete discography


Well?

If you are a fan of James Taylor this is definite must have. If you are a fan of live concerts recorded in DD 5.1 and digitally mastered on DVD, this too, is a must have. Basically, what this review is trying to tell you is go out and buy this DVD! You won't be disappointed.
Please help support our site by buying this DVD title through this link. Thank you kindly.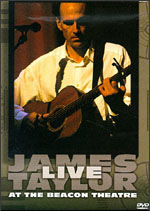 Purchase This DVD
Story / Content



Audio



Video



Extras