JAY AND SILENT BOB STRIKE BACK
Reviewed February 25th, 2002 by David Nusair
Jay and Silent Bob Strike Back supposedly represents writer/director Kevin Smith's last foray into the world of Jay and Silent Bob (and all the other characters we've come to associate with Smith). Should he remain true to his promise, that'd really be a shame – given that Smith really has a knack for writing dialogue for co-star Jason Mewes (Jay to Smith's Silent Bob) and all the other bizarre characters that populate this fictional (and occasionally not-so-fictional) world.

Less a movie and more a series of sequences designed to bring back many former characters and random guest stars, Jay and Silent Bob Strike Back's basic structure is that of the tried and true road-trip flick. The movie opens in Jay and Silent Bob's hometown of Red Bank, New Jersey, where the duo spend their days hanging around outside Dante's convenience store and Randall's video shop (Brian O'Halloran and Jeff Anderson, respectively). They soon learn from Brodie (Jason Lee) that Miramax is making a movie out of Bluntman and Chronic, a pair of crime fighting comic book heroes based on the two of them. After paying a visit to Holden (Ben Affleck), the creator of said comic, the duo decide to head to Hollywood with the express purpose of preventing the movie from being made. A wacky road trip ensues.

Jay and Silent Bob Strike Back, along with Smith's previous films, is light on plot but heavy on jokes. This usually isn't a problem, but the storyline is particularly thin this time around. The entire subplot featuring the four jewel thieves is doesn't really go anywhere, and exists only to kill a good half-hour of screen time. Indeed, the stuff with these jewel thieves proves to be more dull than anything else – the laughs just about come to a dead halt whenever Smith dwells on these four ladies – and it's easy enough to wish that Smith would've just included more screwball antics with Jay and Silent Bob on their trek.

But aside from that, the film does contain a lot of big laughs and fun guest appearances. Virtually every major character from Smith's previous films is back (including some not-so-major characters; anyone remember Trish the Dish?), including a few that require the same actor to appear twice (Jason Lee returns as Banky and Brodie, for example). Add to that some hilarious surprise appearance (Ben Affleck and Matt Damon return for a sequence detailing the filming of "Good Will Hunting 2: Hunting Season), and you've got a madcap comedy that rarely disappoints. Put it this way: The first half hour rocks, the middle 30 minutes is essentially disposable, while the last 45 minutes just fly by.

Jay and Silent Bob Strike Back is a suitable conclusion to the Jersey trilogy that wound up being five flicks. Check it out, but do yourself a favor – make sure you've seen the film that came before it before sitting down to watch Jay and Silent Bob Strike Back.

Audio: Jay and Silent Bob Strike Back comes armed with a DD 5.1 soundtrack, and it sounds great. This is Smith's most expensive movie yet, and there's no question a lot of work went into the soundtrack. Various ambient sounds that you wouldn't expect out of a Smith movie are present and this disc perfectly plays them all. While this isn't exactly a demo disc in terms of audio…

Video: …in terms of video, it just about is. Clear, crisp and free of artifacting, this is about as good as it gets. This is the live-action equivalent of a Pixar disc; it's that good. The anamorphically enhanced 2.35:1 picture is often times quite colorful and vibrant, and this disc is a perfect showcase for Smith's finest looking film.

Extras: DVDs with lots 'o extras is par for the course when it comes to View Askew discs, and Jay and Silent Bob Strike Back doesn't disappoint. We've got two discs, the first of which houses the requisite commentary track and some bonus trailers. The commentary, featuring Smith, co-star Jason Mewes, and producer Scott Mosier, is just as informative and compelling as any other track from the View Askew guys. However, those expecting a non-stop jokefest (a la Mallrats or Chasing Amy) might be a little bit disappointed. The party atmosphere of those two discs has been replaced by a more informative style. That's not to say that jokes aren't fast and frequent – they are – there's just more substance here. Smith, as usual, leads the conversation, peppering the track with equal parts anecdotes, dirty jokes, and did-ya-notice type factoids. A great track. Rounding out disc one is a "sneak peaks" section containing: trailers for Clerks and Chasing Amy, a teaser for 40 Days and 40 Nights, a soundtrack spot for Jay and Silent Bob Strike Back, a commercial for the Clerks cartoon DVD, and a promotional spot for Dimension Films.

Moving on to disc two, the biggest section houses the deleted scenes. Hit the play all button, and you're treated to over 90 minutes of scenes! Well, it's more like 45 minutes of deleted sequences and 45 minutes of introductions, but no matter, that's a lot of stuff. And most of these scenes are quite funny, while others it's easy enough to see why they were excised. There's an entire subplot featuring Jay and Silent Bob's escapades on a bus, which is quite humorous.

Next up are a couple of featurettes – one produced by the View Askew team, the other a Comedy Central production. Not surprisingly, the homegrown doc is substantially better than the flashy Comedy Central version. Running around 14-minutes, View Askew's look behind the scenes is exactly that; an honest look at the making of the movie. Incredibly entertaining and all-too-short, this is the way to do it. Without an obnoxious amount of clips from the film (as is the case with most making-ofs), the duration of the featurette is devoted to on-the-set interviews with the cast and Smith, and some revealing behind the scenes footage. The Comedy Central featurette, running around 22 minutes, is also good – though not quite the expose the other one was. This is a mixture of interviews with the stars (the bulk of which come from Will Ferrell – funny as ever) and behind the scenes footage. Though there's not really anything new to be learned here, this slick doc is immensely entertaining.

Up next is a six minute gag reel, accompanied by a short introduction. Not surprisingly, a lot of this stuff is hilarious – particularly the footage of Affleck and Damon cracking up while filming their "Good Will Hunting 2" sequence.

Next up is a section entitled "the Secret Stash," which houses four separate sequences featuring improvisations by the stars (accompanied by, of course, an introduction by Smith). The four scenes are: Ferrell attempting to requisition a jet, Affleck questioning the validity of a Jay and Silent Bob movie, Judd Nelson offering up suggestions of what to do once at the station house, and an extended Jon Stewart/Will Ferrell sequence in the newsroom. These are all very funny, and it sure would have been nice to have even more of these outtakes.

On a more musical note, two music videos are included – Stroke 9's "Kick Some Ass" and Afro Man's novelty hit "Because I Got High." Far more interesting are two sections dealing with Morris Day and the Time's inclusion in the film. The first features Morris Day attempting to teach Smith how to do their dance moves, with little success. The second is a lengthy article detailing the history of the band, offering up way more than you ever needed to know.

Next up are a series of pictures, drawings and storyboards. The storyboards, of which there are many, seem to have been drawn by someone involved with the Clerks cartoon – since the animation style is similar. The next section is broken up into three parts – one featuring prototypes of the film's poster, another featuring stills from the set, while the last features a look at the comic book that inspired the Bluntman and Chronic movie.

Rounding out this second disc are the two Internet trailers (though the theatrical trailer doesn't seem to have been included), six television spots, and some cast filmographies (Jason Mewes' filmography includes an easter egg; click the up button until the word "balls" has been highlighted and click it. Believe it or not, the word "balls" is quite descriptive of what you will find in there.)

Conclusion: This package is yet another stellar example of what DVD should be all about. Kudos to the folks at View Askew for putting together another great disc.
Please help support our site by buying this DVD title through this link. Thank you kindly.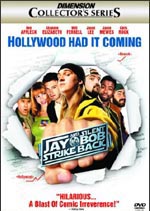 Purchase This DVD
Story / Content



Audio



Video



Extras