JERRY SEINFELD: COMEDIAN
Reviewed July 9th, 2003 by Brian White
Comedian is a fascinating documentary that follows Jerry Seinfeld as he develops a new comedy routine from scratch. Much more than that, it is a study of the world of stand-up comics, because Seinfeld's rebirth is paralleled to the experiences of Orny Adams as he finds his first real success.

Jerry Seinfeld has accomplished everything that a comedian can. He built up his career until he was one of the top stand-up comedians in the world, and then he created one of the greatest television programs in history. Through all of this, he amassed a fortune. Now what?

One of the themes in Comedian is the drive of a comic to continue writing new material and to prove to himself that he still has it. We see Seinfeld take the stage unannounced at small comedy clubs to test his new material. The pleasantly surprised audience (getting more than their money's worth) then hears Seinfeld's new material. Through the film we Seinfeld discusses how his act grows from five minutes to a full hour.

Perhaps the most interesting aspect of the film are the discussions that Sienfeld has with his peers. Back stage at the clubs, we see Colin Quinn, Gary Shandling, Robert Klein, Chris Rock, Jay Leno, and many others. Jay Leno asks him if he'll fall back on the old material when the new jokes come up short. Seinfeld is determine to only do new material.

As Jerry finds personal satisfaction in starting over again, we see Orny Adams, an up and coming comedian, start to build some hype around his act. The two comedians are counter-pointed nicely when Orny gets advice from Seinfeld, which inspires him to fight on; and Seinfeld gets similar advice from Cosby. Cosby does two and a half hours of new material, as we are told by Rock.

Comedian is great if you care about how show business comes together. You get to hear somewhat frank conversations between celebrities that you know and respect. You also get to hear their reflections on their own art form. Don't expect to see anything new about Seinfeld's private life. This is about comedy, and you get it all. That being said, this is not a comedy concert film. You hear some of the material, but you can still pay $100.00 to hear the jokes that Seinfeld put together during this period of time when he comes to your town.

Being a documentary, the video on the disc is suitably disappointing. It appears to have been captured entirely on digital video and in whatever light was available at the time. Also, the film is presented only in 4:3. Perhaps this production was intended for television.

The audio fares much better with a 5.1, Dolby Digital track. All that you really get through the surround mix is the great jazzy score, but it adds a real aspect of professionalism to the DVD authoring.

Comedian boasts some great extras. Perhaps the best is the feature-length commentary by Seinfeld and Colin Quinn. Remember how Jerry would rip on George about whatever he was wearing or doing? Listen to the two of these guys rip on Orny and everyone else on screen (except for the comedians they respect). This is as interesting as the content of the film, and a very entertaining addition. As though that were not enough, we can listen to director Christian Charles and producer Gary Streiner discuss how they made the film. Jiminy Glick Interviews with both Seinfeld and Adams are included, as well as deleted scenes with commentary, and the complete Letterman appearances that are referred to in the film.
Please help support our site by buying this DVD title through this link. Thank you kindly.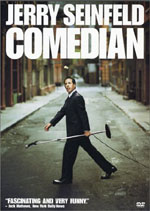 Purchase This DVD
Story / Content



Audio



Video



Extras