JOHN Q (INFINIFILM EDITION)
Reviewed August 6th, 2002 by Steve Jackson
"The hospital is under new management now! Free health care for everyone!"

John Q. Archibald (Denzel Washington) is like many struggling Americans. He is trying to work hard, pay his bills – and always seems to come up short. His work hours have been cut, his car is towed away and somehow he manages to smile at the kitchen table during breakfast.

At a little league baseball game, John's son collapses as he runs to the base. Rushing the little boy to the hospital, we learn that his son is very ill and is in need of a heart transplant. Knowing their family does not have that kind of money, and after their insurance denies their claim, it is up to John to save his son – with whatever means necessary.

When all else fails, John storms into the hospital and basically takes an emergency room hostage – including some patients and some of the hospital staff. He demands that his child get the treatment that he needs – or he will start killing people.

Can the police, hospital staff or anyone else - help save the hostages? Will John's son be saved? Will John make it out of the hospital alive himself?

I have to admit, I was not too interested in seeing this movie at first. I had heard a mix of things about how good or bad it was and how unrealistic it most likely was, but sitting down and spinning the disc – I watched a movie that kept me interested, was funny in parts and actually pretty powerful as well.

The supporting cast was pretty good with some big name stars carrying the movie along in some rather minor parts. First up Robert Duvall plays Lt. Grimes – who plays the role of a hostage negotiator. I always enjoy watching Duvall on screen. He never disappoints. Also in the film is Anne Heche, James Woods, Ray Liotta and others.

A good dramatic film usually mixes humor with touchy subjects – and this film does just that. Some of the funniest one-liners comes from Eddie Griffin from Undercover Brother fame. His portrayal of Lester, one of the hostages in the ER, is just perfectly funny which was exactly what the film needed.

The video on the DVD is presented in 1.85:1 anamorphic widescreen and one word describes it: wow. This is one of the best transfers this year and lives up to New Line's impressive work. There is a bit of edge enhancement present and some of the colors seem a little dull in places, but everything else looks dead on. Black levels, sharpness, detail – all right on. There is not even a sign of digital noise or scratches anywhere to be found.

The audio is presented in Dolby Digital and DTS 5.1. Both are incredibly good as well. Dialogue and the score is very strong, and the use of the surrounds was pretty impressive. Bass could have been a little bit stronger, but that is minor for this type of film. A Dolby Digital 2.0 track is also available.

As this is an Infinifilm title by New Line, there are some really interesting extras to go along with the film. Be warned: If you have not seen the film yet, watch the regular version first with the Infinifilm option turned off. Basically the Infinifilm option allows the viewer to pick and choose alternate takes, interviews, and other behind the scenes stuff – all while watching the film. It allows you to dig deeper into a film.

The second big extra is the audio commentary by the director Nick Cassavetes, the writer, the producer, the cinematographer, and actor Kimberly Elise who plays John Q's wife in the film.

Next up are two featurettes – "Behind the Scenes of John Q" which is a 20-minute documentary look into the making of the film and "Fighting for Care" about the lack of insurance and high costs of health care. The first featurette is more of a standard feature, but the second was a good insight on how reform really need to happen in the healthcare industry.

Now we come to the infamous deleted and / or extended scenes. I always enjoy seeing the deleted scenes of a movie, but often times they are just extended scenes with maybe 10 extra words of dialogue – not in the case of this disc. There actually are two or three really good deleted scenes that you need to check out. James Wood's character did have a heart – go figure. All in all this section lasts about 20 more minutes.

To finish up the extras there are weblinks, a press kit and a trailer.

I have to recommend this film for a lazy Sunday afternoon. Denzel gives a strong performance on a very touchy subject. Some of the film is good and some of it is a bit unbelievable I suppose – but grab some popcorn and watch the film and make up your own mind. Those that love this movie – this is an excellent DVD presentation that you must add to your collection.
Please help support our site by buying this DVD title through this link. Thank you kindly.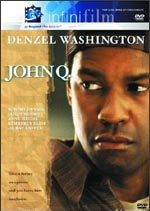 Purchase This DVD
Story / Content



Audio



Video



Extras