JOSEPH AND THE AMAZING TECHNICOLOR DREAMCOAT
Reviewed April 30th, 2000 by Brian White
Following in the steps of last year's Cats video release, Really Useful Films (part of Andrew Lloyd Webber's empire) has produced a video release of Tim Rice's and Lloyd Webber's Joseph and the Amazing Technicolor Dreamcoat. The 1968 play, based on the Bible story, was written for a school's end of term production. The writers were in their late teens at the time. The result is a refreshing and uplifting family musical. It is varied musically, colorful and very tongue-in-cheek. Though not Evita, this is a wonderful play. The show is more fun when seen live, but this video comes very close to that experience.

Based on the several productions from the early nineties, the video is much better than the Cats video. Instead of filming an existing set, several new and more elaborate sets were constructed just for this release. As well, the play is somewhat re-imagined for the medium, while maintaining the character of the live show.

The best talent was gathered for the video: Donny Osmond was born to play Joseph, and his 2000-plus performances don't hurt. Your reviewer can vouch for Osmond's talent, as his voice was just as strong live, as it is in this recorded production. Maria Friedman gives the Narrator all the personality she needs. The brothers and the Pharaoh are very entertaining as well. Rounding out this cast are the great cameos by Sir Richard Attenborough and Joan Collins.

The video quality on the 1.55:1, anamorphic disc is very good. The colors are bright (which is more important here than might be imagined), and the detail is very good as well. One minor gripe is the occasional jerkiness (which is very rare); almost like a slightly abused rental disc. Perhaps this is the result of too much on the disc, and poor authoring.

The sound, which is so important for a musical, is very well done. The mix is rich and dynamic across the front. The surrounds are used sparingly. The DTS mix is marginally better.

As for extras, there are production notes, and an informative documentary about this production, and the phenomenon of Joseph in British schools. And who can complain about both 5.1 mixes on the disc?

Perhaps your reviewer is displaying some ignorance here, but: is it possible that the inclusion of the DTS mix, and the documentary is a little too much for the authoring of this disc? There is the jerkiness that I mentioned, and a rather hesitant layer change at chapter 16.

A very good purchase, if this is your cup of tea. Go Go Go Jo!
Please help support our site by buying this DVD title through this link. Thank you kindly.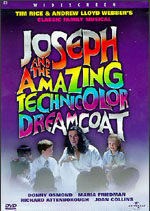 Purchase This DVD
Story / Content



Audio



Video



Extras