KATE & LEOPOLD
Reviewed June 24th, 2002 by Brian White
It would be really cool to be all cynical and trash this movie, but I was pleasantly surprised and how it succeeded in being the movie it tried to be. Kate & Leopold is a romantic comedy thatís worth watching. It is a chick flick, donít get me wrong, but it isnít at all that bad.

Kate & Leopold is the story of a duke (Hugh Jackman) in the late nineteenth century. Heís related to the royal family, but heís in New York. Donít ask. Anyway, heís not content with his lot in life, and is more interested in science than anything else. Surprisingly, our duke notices a man out of place in his time. Upon chasing said man, our duke finds himself falling off of the Brooklyn Bridge and into the twenty-first century.

The Duke meets Kate (Meg Ryan), a successful executive at a research firm, who is not overly romantic. Thereís the problem: the fairytale ideal man is in her life, and it goes against everything that has gotten her where she is. I could go off on a feminist rant here about women giving up their individuality for a man, especially after the improbable financial sacrifices that the Meg Ryanís character made in Youíve Got Mail, but that sort of thing just doesnít fit in a romantic comedy. Thereís a bit of old-time Hollywood here. It works.

The science fiction is somewhat loose in this flick. There is an effort to show some cause and effect of the time travel, but it is somewhat slim. Director James Mangold suggests that historical inaccuracies and bad science fiction is par for the course in a comedy.

Ultimately what makes the movie work is Hugh Jackman. He plays Leopold very well. Heís funny, serious, and from what my wife says, quite good-looking. The bastard. Anyway, this is the Hugh show. Meg Ryan plays her regular, likeable self. Sheís got this down to an art form. West Wingís Bradley Whitford plays a very good creep.

The video transfer on the disc, in 1.85:1 anamorphic, is quite detailed, though a little grainy for my tastes. It is very film-like. So youíve got the detail, but youíve got the noise. Listening to Mangold on the commentary, I wonder if he used a grainy film stock in order to give the film some gravitas.

For audio, the 5.1 Dolby Digital mix is in keeping with the genre. There is great music and ambient noise throughout the surrounds. Some interesting incidental noise is also present during the 19th century footage. A thunderstorm is quite dynamic.

For extras, you get two cuts of the film. The directorís cut adds a new sequence, and some more footage through seamless branching. A suggestion to those who havenít seen the film would be to view the theatrical release first, because there is an addition to the directorís cut that might ruin the film. There is a feature-length commentary from Mangold. This is really quite thematic, rather than technical, or even anecdotal. Heís talking about the film in a really high-level sort of way. The commentary comes across as overly academic, and even a little defensive about some of the filmís shortcomings. Also included is the video for Stingís Oscar-nominated song Until, the HBO behind-the-scenes featurette, a costumes featurette, deleted scenes with commentary, and some promotional material.
Please help support our site by buying this DVD title through this link. Thank you kindly.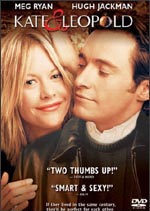 Purchase This DVD

Purchase Promo Poster

Story / Content



Audio



Video



Extras