KEEPING THE FAITH
Reviewed January 14th, 2001 by Brian White
So this priest and a rabbi are good friends. Their long-lost childhood female friend comes back to town and wackiness ensues. Have you heard this one before? Keeping the Faith, despite its unlikely premise, is a fun date movie. It has all the gloss of a big Hollywood romantic comedy, with some excellent performances from Ben Stiller, Edward Norton (who also directs).

The story is this: Stiller, Norton and Jenna Elfman's characters are childhood friends; the girl's family moves away and the two boys grow up to be a priest and a rabbi. A refreshing aspect of the film is the fact that both men are very good at what they do. The film doesn't dissolve into the stereotypes that one might expect. There are some forays into Mr. Bean-esque physical comedy early on for Norton, but that doesn't last for long. A big part of this picture is the energy and talent that the two young men have for their vocations.

Of course, the young girl grows into Jenna Elfman, who comes back on a business trip. Naturally, the two boys (and the girl) are smitten. A complicated love triangle begins. The priest's situation, difficult for obvious reasons, is handled with a lot of class. The main story surrounds the complication of the rabbi's situation with a non-jew, and the priest's reaction to the secret romance behind his back.

Despite these situations, and rather unlikely premise, this film is quite funny and entertaining. Norton should be quite proud of this early, if not first, directing effort. After American History X, Norton proves a vast amount of range as an actor. As for Elfman, I've never signed off on this Dharma thing. If it had been Cameron Diaz, I could have suspended my disbelief. Stiller, as always, is brilliant.

The disc looks as good as you'd expect from a flashy Hollywood romantic comedy. The 1.85:1 anamorphic transfer is quite good. The audio track is 5.1 Dolby digital, and somewhat understated, in keeping with the film genre. You'll hear your surrounds, but not often.

For extras, there is the interesting director commentary. I say interesting because the director is also one of the stars, and very new at his game. As a result, the insight is different than that of a director-only commentary. The outtakes are quite funny. A trailer is also included.
Please help support our site by buying this DVD title through this link. Thank you kindly.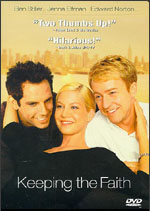 Purchase This DVD
Story / Content



Audio



Video



Extras