KILL BILL: VOL. 1
Reviewed April 12th, 2004 by Dan Jones
"It was not my intention to do this in front of you. For that I'm sorry. But you can take my word for it, your mother had it comin'. When you grow up, if you still feel raw about it, I'll be waiting."

Kill Bill, undoubtedly one of the most violent, blood-soaked films ever made, adds another notch to Quentin Tarantino's near-perfect directorial efforts. The plot, if it can be considered one, is quite simple: REVENGE.

The film starts off with "The Bride" (Uma Thurman) laying on the floor of a wedding chapel, surrounded by her now murdered wedding party, massacred by The Deadly Viper Assassination Squad. A man stands over The Bride (who is pregnant) giving her some last words before firing a gunshot into her head at near point-blank range. As luck might have it, The Bride is left for dead by the team, is found by the authorities in a comatose state, but ultimately does survive.

Flash forward to The Bride waking up from her coma (in a very disturbing scene involving hospital employees selling the use of her body…). Soon she becomes determined to seek out and destroy the team that attempted to kill her, ultimately reaching and killing the leader of this group, and the father of The Bride's presumably lost child, Bill (David Carradine).

Volume 1 of Kill Bill is a roller-coaster ride from start to finish; obviously done in a style to pay homage to martial arts films of the past, Kill Bill provides a simple yet engrossing storyline with amazing visuals and extremely well choreographed fight scenes. The acting is also pitch-perfect; while most of these actresses by themselves could rarely ever be seen as cold-blooded, calculated killers, Tarantino makes them undeniably believable in their roles, especially Thurman, Fox and Liu.

And yes, the film is ultra-violent. Never before had I seen so much blood, so many severed limbs, decapitations, etc… However, this is all done in a very stylistic, over-the-top manner, rarely ever realistic. This is also an incomplete film in that we know we're just half-way through the carnage. After seeing Vol. 1 a few times I have to agree with Tarantino on doing it this way; 3+ hours of this might be a bit much to take without a break to calm down.

So, the film is a near-masterpiece; let's check the DVD.

Presented in 2.35:1 anamorphic widescreen, the film doesn't look quite as razor-sharp as I hoped it might, but overall it's still a very good presentation. Colors are robust and vibrant throughout and blacks and darks are bold. The picture does seem to be a bit soft overall. No compression problems were noticed.

Audio wise, we are given 5.1 tracks in both Dolby Digital and DTS. Overall these are stellar mixes with extremely active surround usage, excellent low-end presence and solid range. Its clear that throughout the film Tarantino drew some sounds from film's of the past, resulting in different audio quality in places, though this just further adds to the overall feeling of the film. An excellent presentation; swords and blood splatter have rarely sounded this good.

Extras wise you will be disappointed. It seems obvious to me at this point that inevitably the film will be released in a single package with more supplemental material then what we have here. But we'll have to wait and see.

The Making of Kill Bill Vol. 1 comes in at a bit over 22 minutes; taking us from the beginning of the film's birth to some behind the scenes footage. We get a bit over interview material from Thurman, Tarantino, and others. Besides that we have a music video by "5, 6, 7, 8" for "I'm Blue" and "I Walk Like Jayne Mansfield" and trailers for Trantino's four films.

Overall, Kill Bill Vol. 1 is an exceptional film with tremendous style, acting and choreography. While this DVD release doesn't live up to the expectations set by the newly released special editions for previous Tarantino films, the film itself should be more then enough to warrant a purchase. An easy recommendation.

Get it soon; Kill Bill Vol. 2 hits the theaters April 16.
Please help support our site by buying this DVD title through this link. Thank you kindly.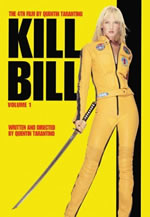 Purchase This DVD

Purchase Promo Poster

Story / Content



Audio



Video



Extras