KILL BILL: VOL. 2
Reviewed August 30th, 2004 by Brian White
So here is an awesome movie, a great looking transfer, a cool sounding soundtrack, on a DVD you probably shouldn't buy. More about that later.

Kill Bill Volume 2 completes writer/director Quentin Tarantino's story of revenge started in Volume 1. Originally planned as one film, the studio decided to release two films when the running time got too long. Tarantino then played with the idea of two films, giving them different themes. Volume 1, according to Tarantino in the featurette, is about involving the audience in the world. Volume 2 completes the story. Volume 1 is the question, Volume 2 is the answer. Also, Volume 1 leans more toward Eastern references, such as Hong Kong movies and Samurai movies, where Volume 2 has more to do with Spaghetti Westerns. However Eastern and Western elements are present in both films.

Over-all, Kill Bill is the story of the Bride's revenge. The Bride was a member of an assassin squad and when she looked for a life outside; she was attacked at her own wedding and left for dead. Kill Bill Volumes 1 and 2 show the Bride seeking her revenge upon each member of the assassin squad, and their leader, Bill. Kill Bill Volume 1 is an introduction to this story. It focuses on the Bride's decision to seek revenge, and her attack upon two members of the squad. It also deals with her acquisition of a samurai sword.

Volume 2 picks up the story at the end of Volume 1, but delves much deeper into relationships, and character.

To this writer, Volume 1 is about style and flash, while Volume 2 is about story and character. Where Volume 1 hit you over the head with awesome flash and action sequences, Volume 2, while still quite exciting, gives us more dialog and character. Here we have more of the typical things for which Tarantino is famous. We have characters in their own worlds with lives. Volume 1 = frosting, Volume 2 = cake.

Kill Bill in general is a departure for Tarantino. It is a great indication of his skill.

The 2.35:1, anamorphic transfer is just lovely. Look at the marks on David Carradine's face during the black and white opening at the church. Now look at the beautiful dessert sequence when the film turns to color. This is a beautiful looking film, as Tarantino is paying more attention to visual style and cinematography. The transfer expresses this shift very well. One curious note: in the theater, the aspect ration switches to 4:3 at one point to highlight a feeling of claustrophobia. The review copy does not do that, although I have heard that certain copies do switch aspect ratios. Strange.

The DTS 5.1 mix is quite good (a Dolby Digital 5.1 mix is also available). You hear atmospheric stuff, like music, and a bit of wind in the surrounds most of the time. At other times, the mix is used to great effect: when fights start, you hear the great swoosh noises of moving limbs through the surround channels; in another scene, with dirt falling around our heroine, the jarring noises of each shovel-full pound you through the surrounds. Great stuff indeed.

For extras, there is a behind-the-scenes featurette about the film where Tarantino explains the film in a thematic sense, and also explains the differences between the two. There is also an introduction to many of the characters and a nod to some references. There is a live music performance from the film premier and a cool deleted scene where we see Bill in action.

So why should you pass this one up? Mr. Hunt over at Digital Bits had a word with a DVD distributor where it was revealed that Kill Bill Volumes 1 and 2 will see several releases. This somewhat bare-bones edition will probably be replaced by a 2-disc special edition in the near future. Just look at what has been done to Pulp Fiction, Reservoir Dogs and Jackie Brown. This writer is waiting for a compressive box with special editions of both films, and not the inevitable box of the two bare-bones editions that we'll probably see this Christmas.
Please help support our site by buying this DVD title through this link. Thank you kindly.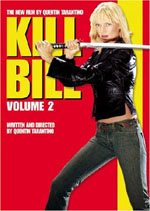 Purchase This DVD

Purchase Promo Poster

Story / Content



Audio



Video



Extras