KILL ME LATER
Reviewed March 17th, 2002 by David Nusair
Kill Me Later isn't a bad movie, really; it's just entirely forgettable. It's the sort of film you'll watch, and then about an hour after it's over, you'll barely remember what it was about. This isn't the fault of the actors – they're actually quite engaging and likable – but rather the lackluster script and pretentious direction.

Selma Blair stars as a depressed and lonely young woman who, as the movie opens, has just made the decision to kill herself. She's coming off of an affair with a married man – who also happens to be her boss – and as if everything else in her life wasn't bad enough, her goldfish has just died as well. Around the same time she heads to the roof of her bank (where she works as a loans officer) to plunge to her death, a clumsy criminal (played by Max Beesley) is in the midst of a horribly botched robbery. In his haste to escape the fuzz, he inadvertently heads up the stairs instead of, you know, as far away from the building as he can get. Just as Blair is about to take a flying leap, Beesley grabs her and insists that she be his hostage. But considering she was about to murder herself, she doesn't take too well to threats. Beesley eventually bribes her into accompanying him and the two make a clean getaway. Hijinks ensue as this unlikely duo head off on a journey of self-discovery and romance.

Kill Me Later is directed by Dana Lustig, probably best known for the chick flick Wedding Bell Blues. That film was about as straight-forward and plain as they come, with absolutely no directorial flourishes to be found. Apparently, Lustig regrets that decision, because Kill Me Later is filled to the brim with over-the-top instances of direction. She throws in everything – random instances of slow motion, color filters (she'll turn the image completely blue for no reason whatsoever), etc. – and completely destroys any kind of flow the film had been working towards. Lustig seriously needs to take a step back and realize that while the occasional arty touch can work, there comes a certain point at which you gotta yank on the reigns and pull it back a bit.

But the film is saved (to a certain extent) by the charisma of the two leads, with Blair delivering yet another scene-stealing performance. Though she's never had a lead role in a mainstream Hollywood flick (she's mostly relegated to "best friend" type characters; see Legally Blonde and Cruel Intentions), she's certainly got what it takes to carry a movie on her winsome shoulders.

Kill Me Later is a pleasant enough time-killer, though it would have been far better had someone told Lustig to ease up on the wholly unnecessary and entirely distracting camera tricks.

Audio: Kill Me Later is presented with a DD 5.1 soundtrack, and it never really amounts to much. This surely wasn't intended to be a booming spectacle, and this track represents that. The dialogue is fairly crisp, though it does occasionally sound a little muffled.

Video: The transfer fares slightly better. This 1.85:1 anamorphically enhanced transfer is crisp and sharp, with little evidence of graininess.

Extras: First up is a commentary track with director Lustig. Though it would have been nice if she would have explained her various unnecessary camera tricks, she doesn't. She mostly talks about the rigors of working on a low-budget film and how great she thinks the cast is. Next up is a series of interviews with stars Blair and Beesley. They talk about their characters, and working on the film. Nothing earth shattering here, but it's fairly interesting (albeit very short). Finally, there's a trailer.

Conclusion: Kill Me Later's performances make it worth a cheap rental, but nothing more.
Please help support our site by buying this DVD title through this link. Thank you kindly.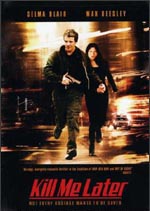 Purchase This DVD
Story / Content



Audio



Video



Extras