KING OF NEW YORK
Reviewed April 10th, 2001 by Todd Terwilliger
King of New York is one of those films featuring a cast that would now be considered all-star but, at the time, would have bee just a shade over B-movie status. Directed by Abel Ferrara (Bad Lieutenant) and starring Larry Fishburne, David Caruso, Wesley Snipes, and Christopher Walken, King offers a slightly different twist on the gangster/drug lord formula.

Frank White (Walken) is released from prison. Reuniting with Jump (Fishburne) and his crew, White is determined to retake the territory that he lost, and settle some old scores along the way. Detective Roy Bishop (Victor Argo), along with detectives Gilley and Flanigan (Caruso and Fishburne) are following White's every move. Bishop wants White back behind bars. Gilley and Flanigan, however, are willing to do anything, lawful or not, to get White off the streets.

The film is driven by Walken. White is the epitome of the kingpin, surrounded by power, wealth, and women. On several counts, however, he goes against the grain. Firstly, his crew is predominantly black, from the projects. He also has a soft spot for the projects and is not above using drug money to better the neighborhood. Fishburne is also on the money as the wild Jump, providing the perfect foil for Snipes' Flanigan.

Artisan presents the film in a non-anamorphic 1.85:1 aspect ratio. The quality of the print is very good. Although there is some pixelation and, at times, the focus appears soft, the picture quality is excellent. The palette moves from extremes of red-tint to blue-tint in some scenes. Whether this is an original feature of the film itself, or of the transfer, I found it, at times, to be a bit distracting, especially during some of the scenes dominated by red.

King's audio is delivered in a Dolby Digital 2.0 surround format. There isn't much movement going on but everything sounds clear and distinct. I thought the audio volume was a tad low. I found myself turning the volume higher than normal to compensate.

For extra features, Artisan has included a theatrical trailer, television spots, and a music video of one of the songs featured in the film. There's nothing to write home about here. I couldn't see myself watching any of them more than once, if that. There is nothing truly valuable here.

King of New York is one of my favorite films. It really helped start the genre continued later by films such as New Jack City and Sugar Hill. The heroes and villains here truly merge into a gray middle area. White is clearly a villain. Yet, he is not completely without merit, nor or cops Flanigan and Gilley without fault or guilt. Similar to Ferrara's Bad Lieutenant, the resolution isn't going to leave any warm or fuzzy feelings. Like a pyrrhic victory, the price paid is astronomical.

While more definitive extras would have been nice, Artisan has done a fine job mastering the film for DVD. It has never looked or sounded better. The King of New York is provoking and stylish. For fans of the genre, I highly recommend it.
Please help support our site by buying this DVD title through this link. Thank you kindly.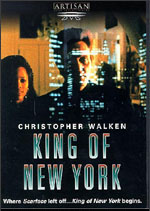 Purchase This DVD
Story / Content



Audio



Video



Extras