LAST TEMPTATION OF CHRIST, THE (CRITERION)
Reviewed May 21st, 2000 by Brian White
This reviewer always loved this film. From the first run, with old ladies picketing the theater, to dissecting the film in university. Now, eight years, and a little maturity since the last screening, Martin Scorsese's Last Temptation of Christ is still a great cinematic experience, yet it lacks that sophomoric appeal.

Novelist Nikos Kazantzakis used the life of Christ as a metaphor for the battle between spirit and flesh. This is obviously reckless, because despite the disclaimer at the beginning of the film that its story is not based on the Gospels, you just can't put Jesus on the screen without causing certain interpretations.

Scorsese makes a film that is at times brilliant, at times boring, and at times silly. He squeezes every last drop of blood out of the New Testament. And in one Temple of Doom-like scene, Christ grabs his beating heart out of his chest. What the hell is that about? The film goes out of its way to be unlike biblical epics at times, but is very faithful to the gospels at other times. Despite the problems, there are intermittent epiphanies to be found here (Jesus' insistence that Judas betray him), they're just in bad company. At the very least, this is an intelligent search for Christ. That is very important given that ridiculous and dim-witted Jesus miniseries on television while this review is being written.

Last Temptation has a fantastic cast. Willem Defoe as Jesus, Harvey Keitel as Judas, Barbara Hershey as Magdalene, and Harry Dean Stanton as St. Paul. The performances are as one would expect from such a fine group of actors.

Criterion has done an excellent job on this DVD. The anamorphic, 1.85:1 transfer is stunning. Criterion also created a very deep and dynamic 5.1 mix for this release. The mix is especially good for Peter Gabriel's inspired score, which envelops the listener.

Criterion, as usual, has packed this special edition with extras. Foremost is the informative commentary by Scorsese, screenwriter Paul Schrader and Dafoe and Jay Cocks. Also included are the interview with Peter Gabriel, a brief video diary shot on location by Scorsese, research materials and production stills.

While the bonus materials are from the 1997 Criterion laser disc, it is impressive that a new transfer and sound mix were created. If you like this film, this is a fantastic disc to own.
Please help support our site by buying this DVD title through this link. Thank you kindly.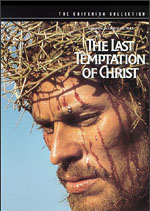 Purchase This DVD
Story / Content



Audio



Video



Extras