LEGALLY BLONDE
Reviewed January 3rd, 2002 by David Nusair
Legally Blonde is a surprising movie. Surprising in that it turns out to not only be funny, but intelligent, witty, and involving. Surprising because you wouldn't expect a movie that, from all appearances, should have been a dumb little comedy to be as consistently entertaining as this is.

Reese Witherspoon stars as Elle, an apparently brainless airhead with but two things on her mind: Men and fashion. She seems to have a perfect life – she's incredibly popular among her circle of equally vacuous friends, she's got a rich and handsome boyfriend, and her dog is astoundingly cute. But everything changes when her boyfriend announces that he's going off to law school, sans Elle. Elle quickly comes to the realization that if only she were a fellow law student, perhaps her boyfriend would take her back. She puts together an audition tape for Harvard and winds up enrolled, thanks to an amazingly lenient admissions office. Now, she's finding out that maybe being a law student isn't as easy as she thought…

Buoyed by an effervescent performance by Witherspoon, Legally Blonde glides along like a schooner in clear water (how's that for a metaphor?) Despite having appeared in a bunch of movies since the early '90s, Witherspoon's never really had a chance to go center stage. Often relegated to the background, she became adept at stealing scenes from seasoned pros. Now, in her first mainstream starring role, she's broken out in a big way. Her Elle is more than just a bubbly airhead, which isn't as easy as you might think (Chris Klein, I'm looking in your direction). Witherspoon brings so much life and vitality to this character, that eventually it's easy enough to forget that's she's essentially an idiot (which, it turns out, doesn't necessarily prevent a person from accomplishing big things – provided they're willing to work a heck of a lot harder than everyone else).

The movie zips along at a pace that's sorely lacking nowadays. This is just a fun movie to watch – the sort that rarely gets made any more. You don't really need to think too much; just enjoy the performances and the smarter-than-expected screenplay.

Audio: This 5.1 DD soundtrack is very effective, on a lot of levels. First off, it's very clear and keeps the many background tunes where they belong – in the background. And it also makes surprising use of the surround speakers. The sound never feels intrusive; rather, it's subtle (which is how surround sound should be for a movie like this).

Video: But even better than that soundtrack is the transfer. This 2.35:1 anamorphically enhanced transfer is a stunner. Legally Blonde is one of the most colorful movies in years, and this transfer reflects that. From the bright pinks to the garish reds, there's no evidence of any bleeding or any of that other stuff that might normally be affected by lots of bright colors. This transfer is certainly reference quality, if only because of that reason.

Extras: Legally Blonde is presented with two sides – the first side houses the movie itself, while the second is devoted to the extras. On the first disc, there's two commentary tracks: One featuring director Robert Luketic, producer Marc Platt, and actor Reese Witherspoon, and the other costume designer Sophie de Rakoff Carbonell, production designer Melissa Stewart, director of photography Anthony B. Richmond, screenwriters Karen McCullah Lutz and Kirsten Smith, and animal trainer Sue Chipperton. Both are quite engaging and informative, with the second narrowly edging out the first in terms of pure entertainment. Each person is allowed to comment on their field of speciality, which makes for a highly informative listen. Also on disc one is a "Pop Up Video" style option. This provides a lot of funny anecdotes and bizarre bits of trivia while you watch the movie. This was definitely a lot of fun. On side two, there are two featurettes – one detailing the making of the movie, and the other focusing on Witherspoon's various wigs and hair styles. The second is intentionally silly, and shouldn't be taken for anything more than that, but the first is genuinely interesting. It's got the usual interviews with the actors and behind-the-scenes folks, but it's also got a lot of info to hand out – from the origins of the screenplay to the casting process. Next up are eight fairly useless deleted scenes. These are cute and funny, but don't really add anything to the whole story. Rounding out the disc are a trailer, a promotional trailer for the Princess Bride, and a music video by Hoku.

Conclusion: It doesn't get much more breezy and enjoyable than Legally Blonde. Check it out.
Please help support our site by buying this DVD title through this link. Thank you kindly.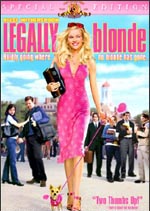 Purchase This DVD
Story / Content



Audio



Video



Extras