LEGEND: ULTIMATE EDITION
Reviewed May 25th, 2002 by Brian White
The Internet is so useful. I was surprised to read on some web site that one of the most requested DVD releases is Ridley Scott's Legend. I was also surprised to read the interesting story behind the two releases of this film. I've seen Legend several times, as it was my then-girlfriend, now-wife's favorite movie in the eighties. I bought the lousy 4:3 VHS edition (the only one available), and watched it several times. Believing myself quite the Legend expert, I was humbled by all of the Internet info I was reading: two different cuts of the film were released, one for North America, and the other for Europe. Perhaps the most surprising difference between the two cuts is the vastly different musical scores. The European cut contained an orchestral score by Jerry Goldsmith, who among several other things has created some memorable music for Star Trek. The North American print of the film contained a pop score by Tangerine Dream.

Legend is finally on DVD, and this two disc set is a fantastic record of the story both on the screen and behind the scenes.

Legend is a lushly filmed fairytale about a young boy (Tom Cruise, no less) and a princess (Mia Sara) who face evil (Tim Curry) to restore good to the world. It is quite remarkable in many ways. It is considered one of a mere few of Tom Cruise's failures, and I think that is unfair. The film might not have found a great audience upon its release, but it has grown steadily in popularity since. I've always found Legend to be magical, and it is worth your time.

The director's cut is a little more Legend for the buck. It is not as different as the Director's Cut of Blade Runner. This is still the same movie. The differences are subtle, with an additional eight minutes. A few sequences are a little longer.

It takes a big man to confess something as large as this, but I've always dug the Tangerine Dream score. I even purchased it on both cassette, then DVD. Hell, I had to import it! So I was a little red-faced to read about how much Legend-heads hate the pop score. I know how great Jerry Goldsmith's work is, so I can understand why this would cause a lot of controversy. The Legend Ultimate Edition makes everyone happy. Both prints of the film are included, so you can compare and contrast, or enjoy it all.

How about the Jerry Goldsmith score? Well after viewing the disc a couple of times, I still feel like the first time I realized that someone else played James Bond before Roger Moore. I was like "Who's that? It's not James Bond!" However, I quickly began to prefer Connery to Moore. I believe that the same will hold true with Goldsmith's beautiful score. Despite the fact that in my mind, Legend and Tangerine Dream are forever melted together, I'm opening up to this music.

The 2.35:1, anamorphic transfer on the director's cut is really quite nice. I was not expecting the print to be this clean and detailed. It is still not as clear as more recent films, but this print is an excellent record of Legend. The North American print of the film, also presented in 2.35:1, is a little softer, and more of what you would expect from a transfer from the eighties. You can tell which version got all the love.

On the director's cut, you get both a DTS and Dolby Digital 5.1 mix. Both mixes are very good, and there is ample use of the surrounds. When comparing the two, I found the Dolby Digital to be a little lower in volume, and certainly lacking a little oomph. The North American print features a Dolby Digital 5.1 mix. The new mixes add a lot to this atmospheric film.

The best extra here, apart from the inclusion of both prints, is a very interesting and rich feature-length commentary from Ridley Scott. It is always interesting to hear a high-profile director discuss his craft, but here Scott tells you about everything, from technical info, anecdotes from filming, to his views about young filmmakers getting into the business. The menu even tracks and labels the commentary. Great stuff. A rather exhaustive documentary is also included, that discusses the film from its earliest stages, through its filming. The Brian Ferry video for "Is Your Love Strong Enough" is also included, as well as trailers and TV spots. A lost scene and a recreation of another lost scene with storyboards are included along with several photos. Ironically, as though a slap in the face for true Legend-heads, an isolated Tangerine Dream score is included on disc two. The packaging is very cool, with the transparent double DVD pack. I quite liked the menu art, with each disc's menu playing a selection from the applicable score.
Please help support our site by buying this DVD title through this link. Thank you kindly.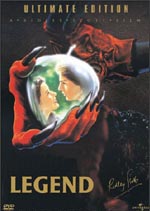 Purchase This DVD
Story / Content



Audio



Video



Extras