LEON: THE PROFESSIONAL
Reviewed August 14th, 2000 by John Randall
I have to admit that the original "The Professional" is one of my all time favorite movies. This uncut (unrated) version just makes me love it even more, however the cuts confuse me a bit.

24 minutes of the movie was cut for the American release – why? They say it was because Americans couldn't handle it. I have to totally disagree with that one. The added minutes only allow the viewer a better look into the story and the points that it wants to get across. I would imagine anyone who loved the cut version is going to love to see more scenes. But I guess that goes for any movie that you love.

The story is the same.

A "cleaner" (aka a hitman) named Leon (Jean Reno) is a lonely man. One day he helps out a small 12-year-old girl named Mathilda (Natalie Portman) when rouge DEA agents shoot down her family. Leon and Mathlida become closer as Mathilda cleans and teaches Leon how to read, while Leon keeps her safe and teaches her how to "clean".

This story is more than your typical action movie (though its great at that too), but also about love in its purest form.

All the main stars (Jean Reno, Natalie Portman, Danny Aiello and the great Gary Oldmen) do a fine job of acting in this one. Director Luc Besson (La Femme Nikita, The Fifth Element) really does a fine job directing this as well. It's visually stunning.

Also, the end song by Sting rocks! (just thought I'd add that)

The video is presented in 2.35:1 anamorphic widescreen and is just as good as the previous release on DVD.

The audio is once again presented in Dolby Digital 5.1 and actually seems a bit better and a bit worse than the previous release. Bass seems less while overall everything else seemed a bit better. The soundtrack was indeed encoded at a higher bit rate.

Extras on the disc include an isolated 5.1 score, trailers, production notes, and a cool international ad section with posters from around the world. Wish we could have seen some sort of documentaries.

In conclusion, Columbia Tri-Star did what we fans wanted for a long time now! We've got the uncut version of Leon and it looks and sounds great.
Please help support our site by buying this DVD title through this link. Thank you kindly.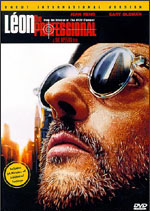 Purchase This DVD
Story / Content



Audio



Video



Extras