LES MISÉRABLES: IN CONCERT
Reviewed January 18th, 2000 by Staff
"Do you hear the people sing?
Singing the song of angry men?
Is it the music of a people who
Who will not be slaves again!"
- Enjolars – rebel student leader

In 1985, Cameron Mackintosh unleashed upon the world Alain Boublil and Claude-Michel Schönberg's musical masterpiece "Les Misérables." Twenty years later, the magic still exists, except this time; Mackintosh has assembled his dream cast. Shot in 1998 at London's famous Royal Albert Hall, Boublil and Schönberg's music (along with Herbert Kretzmer's lyrics) keeps you singing along with all the memorable melodies that drove us to the theatre in the first place.

If you haven't seen Les Misérables, or read the fifteen hundred plus page novel by Victor Hugo, here is a brief plot synopsis. The story focuses on the life of Jean Valjean (Colm Wilkinson), an escaped convict on the run from police chief Javert (played by the outstanding Philip Quast). Along the way to self-redemption, Valjean becomes Mayor, father, and war hero.

Video quality on this disc was somewhat good; taking into account it was shot on video and in standard 4:3 TV ratio. Considering that there were over 250 performers on stage, it would have been nice to see this shot in some sort of widescreen ratio. Sometimes, performers singing on one side of the stage were chopped off due to that pesky 4:3. A few video glitches are noticeable, but the viewer is unable to distinguish if it's bad video quality or weird smoke and lighting effects. For example, from certain angles, it appears that the video picture has grainy lines running through it. Personally, it looked like poor smoke effects, but you be the judge. Overall, video quality was good to great except for the noted exceptions above.

The audio is presented in Dolby Digital 2.0 or plain digital stereo surround. Les Misérables sounds great, but not for the reasons you might expect. Remembering that this disc is a recording of a live musical performance with over 250 performers and The Royal Philharmonic Orchestra, capturing not only how the venue sounds, but also how the orchestra, choir and lead vocals blend is a major task. The engineers on this DVD do an outstanding job of capturing the magic that occurred in Royal Albert Hall that night. However, there are a few audio notes to point out. Some noise and analog distortion can be heard in certain sections of this disc, especially when lead female Ruthie Henshall (who plays Fantine) takes over the reins. Check out side one, chapter 9 for a perfect example. Considering the noted exceptions, the audio quality of this DVD makes you feel like you are one stage singing along to "Master of the House" with all the rest of Thénardier's patrons.

Considering that this is basically a recording of a live concert the extras are pretty good. You get a complete story synopsis, a nice photo library, bios of the lead characters, an option to display subtitles and a lovely little biography of author, Victor Hugo.

Les Misérables is an excellent DVD if you are A) a BIG fan of the music and B) a BIG fan of musicals. One special note, Philip Quast who plays police chief Javert is simply outstanding in this role. His vocals come through clean and powerful without sounding forced or strained. He takes command of his character and stays true throughout. An excellent bonus to an already outstanding cast. In conclusion, Les Misérables in Concert: The Dream Cast would make an excellent addition to anyone who loves music and especially musicals.
Please help support our site by buying this DVD title through this link. Thank you kindly.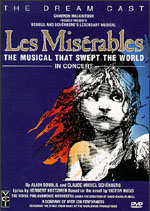 Purchase This DVD
Story / Content



Audio



Video



Extras