LIFE AS A HOUSE
Reviewed April 21st, 2002 by Brian White
When I started watching this movie, I was afraid that it was going to be overly cliché, and that I'd be hit in the head with a big metaphor. Certainly the metaphor is obvious, and it's more of a simile, as it is basically laid out for us ("I've always thought of my life as a house…" "…You're just tearing down your father!"). What I found in the end was a deeply moving film about a man's redemption. It is a story where a man discovers what is actually important and he pursues that. Obviously this sort of story could be a minefield of potential cheeziness if not handled properly. Fortunately, all goes well. There are a few bumps in the road, but ultimately the film succeeds and takes you on its journey.

Kevin Kline plays George. George hasn't been happy, felt anything, or been felt for ten years. His wife has remarried, and his son has spiraled into a life of trouble and despair. George is under the weight of too much baggage, and he has let his life, like his house, crumble around him.

George's life is suddenly changed. First, he is fired from his job. Then, he discovers that he only has a few months to live. George decides to do something with those months. He will take the shack that his father left him, and turn in into a house for his troubled son Sam. Basically as the old house goes down, and the new one begins, we have the rebirth of the relationship between father, son, and everyone else.

I was suspicious about this entire thing turning into a heavy-handed tearjerker, but that never happens. Several red flags that suggest a lesser movie are present at the beginning. George, an architect, is fired essentially for building real models, rather than using the computer. Also, you have Kline's everyman living in a shack, while the evil new husband lives in a fancy new house. The first scene with Hayden Christensen's character Sam is difficult as well. The teen, in piercings and makeup stumbles out of bed, and tries to hang himself for a sexual high. What is that? It almost comes across as a joke. Is this a Sally Jesse Raphael episode where a parent with a Goth teen gets to clean up their kid's life? Also, some of the trouble that Sam gets into in the beginning of the film suggests that it will come back in an over-the-top ending. Luckily for us, this doesn't happen. Ultimately, the film is not as predictable as the beginning suggests. I was preparing myself for disappointment and a chick flick. Instead, this movie improves as it moves along.

Performances are superb. Kline, as always, is forever likable. The director boasts about a character that we aren't supposed to be able to stand in the beginning of the film, but Kline, in my mind, is likeable throughout. As for my co-patriot, Anakin Skywalker: wow. This is a much better career move than say, Corvette Summer. There are several emotionally charged scenes between Kline and his son. The young Christensen pulls these scenes off very well.

The video on this disc is really top-notch. The movie is very well shot, with plenty of sunsets, cliffs and beach. The 1.85:1, anamorphic transfer is fantastic. Obviously this was an expensive film. The transfer on the DVD is very detailed and colorful.

The disc contains both a DTS 5.1 mix and a Dolby Digital 5.1 mix. These mixes are very active, with the DTS mix edging out the Dolby Digital mix in character. Despite being a dialogue-driven drama, there is plenty going on around the mix. While the house is under construction, there are hammers and drills around the listening space. Music also surrounds the listener.

Life as a House boasts some impressive extras. There are two documentaries about the making of the film. First is a 24-minute featurette about the actors and director shaping the characters. This is an interesting bit of film that speaks volumes about an actor's craft. The other featurette is a 10-minute video about set creation. This is also interesting because it shows how the film crew built a street where there was nothing, and handled the technical difficulty of erecting a house in a movie. There are also trailers, and production notes. The special features menu is rounded off by a feature-length commentary by director Irwin Winkler, producer Rob Cowan, and screenwriter Mark Andrus. While being mostly anecdotal, the commentary does present some of the technical details involved in the filmmaking.
Please help support our site by buying this DVD title through this link. Thank you kindly.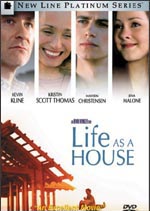 Purchase This DVD
Story / Content



Audio



Video



Extras