MONTY PYTHON'S LIFE OF BRIAN
Reviewed September 6th, 1999 by Staff
The Life of Brian is on DVD, but just barely.

John Cleese said in an interview that he would be happy to be remembered for Life of Brian. He claimed that he is most proud of that particular Monty Python achievement, as it is the result of the most research and creativity which he felt the comedy troupe had put into any of their films. Monty Python's Life of Brian tells the tale of the hapless Brian of Nazareth, who lives at the time of Christ, and whose life parallels that of Christ in the most amusing ways.

Life of Brian is the best example of Monty Python's style of humour in that it operates on so many levels. The troupe's Oxford and Cambridge degrees are quite evident when the viewer con-siders the theological discussions being mocked under all the slapstick and silliness on the film's surface.

Both the video and audio quality of this disc suggest that Anchor Bay rushed this disc out before Criterion could release their collector's edition later this fall. In all fairness, the Pythons weren't as interested in video and sound quality as they were in comedic quality, but the disc could be much better. The video quality is better than VHS, and in (non-anamorphic, clearly) 1.85:1, for a change.

While the disc packaging boasts of Dolby Digital, it is only 2.0 stereo, and not very well reproduced. Dialogue is sometimes difficult to make out.

While chapter selection is hardly a special feature, it should be noted that the disc contains 31 well-placed chapters. This is most important with Python, as the film is still a collection of sketches.

Anchor Bay includes some interesting menus, a trailer and some talent bios. The bios contain nothing new to the rabid fans who are the only customers for which this disc can be recommended. Wait and save up for the Criterion version.
Please help support our site by buying this DVD title through this link. Thank you kindly.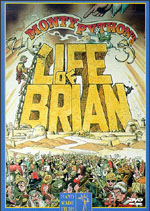 Purchase This DVD
Story / Content



Audio



Video



Extras