MONTY PYTHON'S LIFE OF BRIAN (CRITERION)
Reviewed February 4th, 2000 by Brian White
Monty Python's Life of Brian is one of the funniest movies ever produced. It finds the influential British comedy troupe at their creative peak. Life of Brian is a grilling satire of religion and the religious. The film's hesitant hero is Brian of Nazereth, who is mistaken for the Messiah. Luckily for the DVD consumer, Criterion has released their excellent laser disc of Life of Brian on DVD. The release comes mere months after the bare-bones Anchor Bay release of the title.

How is the transfer? Well, the packaging says, "Monty Python's Life of Brian is presented in its original theatrical aspect ration of 1.85:1. Created on the high definition Spirit datacine, this new digital transfer was made from a new 35mm low contrast print manufactured from the original negative." Great, but most Python fans will agree that the film always looked a little like crap. Film grain, and production problems are still evident. Basically, there is a recognizable improvement over the Anchor Bay disc. If you look at the red brush on top of the Roman soldier's helmet, in the second sequence, during the sermon on the mount ("Hey, Big Nose!"), the edge is a little blurry on the Anchor Bay disc. The soldier's red brush looks crystal-clear on the Criterion disc. Also, the footage of the crowd climbing the mountain is jumpy on the Anchor Bay disc. The same footage on the Criterion disc is smooth. The Criterion disc is also 16x9 enhanced.

And the sound? Again, an improvement, but not a huge improvement over the Anchor Bay disc's 2.0 DD mix. The packaging says, "The sound was made from the original stereo magnetic tracks."

And the extras? Well, there's the reason to buy a Criterion disc. Sure they go all out on the picture and sound, but the source material wasn't that great anyway. Python fans will drool over the extras on this disc, all of which appeared previously on the Criterion laser disc. Probably the most valuable extras are the two original commentary tracks. All surviving Pythons contribute commentary on what they acknowledge is their greatest effort. Eric Idle, Terry Gilliam and director Terry Jones appear on track 1, while John Cleese and Michael Palin appear on track 2. Despite being recorded individually, the commentary tracks are excellent, informative and entertaining. Another great extra on the disc is the BBC documentary on Python which was filmed on the Brian set. Again, it's informative and funny. Criterion also included some deleted scenes, with commentary, and four British radio ads. All in all, this is must-have stuff for Python fans.
Please help support our site by buying this DVD title through this link. Thank you kindly.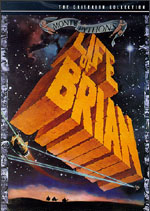 Purchase This DVD
Story / Content



Audio



Video



Extras