LIZZIE MCGUIRE: FASHIONABLY LIZZIE
Reviewed January 5th, 2004 by David Nusair
Lizzie McGuire is an above-average Disney Channel show that stars Hilary Duff as the titular Lizzie. The show basically details her struggle to get through her teenaged life, along with friends Miranda and Gordo. This disc collects four episodes of the series.

The first episode, called Last Year's Model, finds Lizzie becoming an amateur model. Though seems to enjoy it quite a bit, she soon finds that her friends begin to treat her differently. As a celebrity, people that never gave her the time of day before are now acting as though she's the best thing since sliced bread. This leaves Lizzie faced with the decision of either accepting this new way of life or abandoning the whole model thing and becoming the same old Lizzie. Meanwhile, Lizzie's brother has problems of his own, after buying a defective hammock that was on sale.

The next episode is called Best-Dressed for Much Less and finds Lizzie vying for the title of Best Dressed in the school's yearbook. The problem is, everyone has seen what she looks like in her current crop of clothes. However, there is a pair of pants at the aptly named Style Shack that she's positive will win her the title. Her mom refuses to pay over $100 for one pair of pants, though, but offers to take her bargain hunting. This doesn't placate Lizzie, who borrows money from Gordo and Miranda to buy the pants. Lizzie's brother, on the other hand, is dealing with his own brush with fame after appearing on a local show as "the goofy-faced kid."

Up next is Just Like Lizzie, which finds our hero becoming a mentor to a "sevy" (eight-grade speak for someone that's in seventh-grade). Her protégé, Andie, initially gains confidence and self-worth – but eventually begins copying Lizzie's style completely. And Lizzie's brother finds himself almost kicked out of the Wilderness Cadets and bumped down to Bunny Cadets if he doesn't earn some merit badges.

Episode four, entitled One of the Guys, Lizzie winds up beating a school record for hanging from a pole in gym class. After beating a guy at arm wrestling, Lizzie finds herself being asked to participate in the guys only football game. But Lizzie begins to notice that she's being treated as just another guy, instead of a girl. Lizzie's brother begins to excell at math – after a chimp begins sneaking into his room and finishing his homework.

Audio: Lizzie McGuire: Fashionably Lizzie is presented with a Dolby Digital 5.1 soundtrack, and it certainly gets the job done. Surrounds aren't exactly prevalent, but they do pop up every now and then.

Video: This full-frame transfer is sharp and colorful, though it does seem a tad on the grainy side. Still, this certainly beats watching the show on regular TV.

Extras: Extras are limited to a casting session game in which you answer questions to see which character you could've played (for the record, I'm Gordo). The usual Disney sneak peeks are also included.

Conclusion: Lizzie McGuire is an enjoyable show that manages to appeal to both kids and adults, and the each episode contains a message that parents will surely appreciate.
Please help support our site by buying this DVD title through this link. Thank you kindly.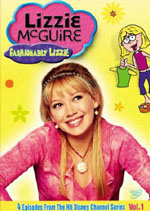 Purchase This DVD
Story / Content



Audio



Video



Extras