LIZZIE MCGUIRE: GROWING UP LIZZIE
Reviewed January 5th, 2004 by David Nusair
Lizzie McGuire is an above-average Disney Channel show that stars Hilary Duff as the titular Lizzie. The show basically details her struggle to get through her teenaged life, along with friends Miranda and Gordo. This disc collects four episodes of the series.

The first episode, called Misadventures in Babysitting, follows Lizzie as she attempts to handle her first babysitting job – which just happens to involve her looking over her brother. Though she insists she can handle the responsibility, she soon finds that it's not quite as easy as she might have hoped. And though she has Gordo and Miranda helping her deal with the situation, a possible intruder is more than any of them can handle. (The intruder is, in fact, Lizzie's dad – who doesn't think Lizzie's up to the task and is spying on her.)

Up next is Between a Rock and a Bra Place, which finds Lizzie and Miranda ready to purchase their first bras. Lizzie doesn't feel entirely comfortable telling her mother, so she and Miranda concoct a lie involving school supplies. Not surprisingly, the ruse fails and Lizzie and Miranda wind up shopping for the support devices with Lizzie's mom. Meanwhile, Lizzie's brother is trying to enter a contest to win a slot opposite Jet Li in an upcoming movie. He convinces Gordo and his father to help film a short Kung Fu movie, but things go horribly. Luckily, Lizzie's father knows David Carradine (co-star Robert Carradine's real-life brother), who offers to help with the production.

The next episode is called Rated Aargh, and involves Lizzie (along with Gordo and Miranda) desperate to get into an R-rated film. They lie to their respective parents, telling them that they're going to play miniature golf instead. But after Lizzie saves a fellow movie theater patron from choking, the trio finds themselves on the evening news. Lizzie's brother is trying his hand at creating a booth for a local carnival, and decides to make a Velcro suit that people can put on and use to jump onto a Velcro wall.

In Party Over Here, Lizzie once again lies to her parents to do something they told her not to. The object of desire in this case is a party being held by the most popular girl at school. She, Miranda, and Gordo tell their respective parents that they're going to be at the mall. But, not surprisingly, the party is far more adult than Lizzie expected and she finally admits she was wrong to her mother. Meanwhile, Lizzie's brother and father are auditioning for a commercial that calls for them to be suspended from a high altitude – even though Lizzie's dad is afraid of heights.

Audio: Lizzie McGuire: Fashionably Lizzie is presented with a Dolby Digital 5.1 soundtrack, and it certainly gets the job done. Surrounds aren't exactly prevalent, but they do pop up every now and then.

Video: This full-frame transfer is sharp and colorful, though it does seem a tad on the grainy side. Still, this certainly beats watching the show on regular TV.

Extras: Along with the usual Disney sneak peeks, the lone extra on this disc is for Hilary Duff's I Can't Wait music video.

Conclusion: Lizzie McGuire is an enjoyable show that manages to appeal to both kids and adults, and the each episode contains a message that parents will surely appreciate.
Please help support our site by buying this DVD title through this link. Thank you kindly.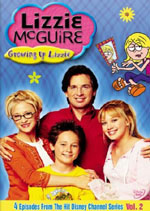 Purchase This DVD
Story / Content



Audio



Video



Extras