LIZZIE MCGUIRE: STAR STRUCK
Reviewed March 30th, 2004 by David Nusair
After the success of the first two Lizzie McGuire DVD collections, a follow-up seemed inevitable. Lizzie McGuire: Star Struck collects four more episodes of the series, all with a celebrity theme (hence the title).

The first episode, "Here Comes Aaron Carter," follows Lizzie (played by, of course, Hilary Duff) as she attempts to meet Aaron Carter, who's in town shooting a music video. Along with her two best friends Miranda (Lalaine) and Gordo (Adam Lamberg), Lizzie devises a plan to sneak into the backlot where Aaron is filming. Not surprisingly, wackiness ensues as Lizzie and co. attempt to sneak past a pesky security guard while also avoiding Lizzie's dad (who has a backstage pass, but wasn't able to tell Lizzie in time).

Episode two, entitled "Lizzie in the Middle," features an appearance by guest star Frankie Muniz, who drops by Lizzie's school to say hello to his old teacher. While there, he asks Lizzie out on a date and the two make plans to see each other at a club. But Lizzie soon discovers that dating a celebrity isn't quite as much fun as it would appear, as she finds herself hounded by the paparazzi. Meanwhile, Lizzie's brother Matt (played by Jake Thomas) takes advantage of Lizzie's newfound fame, and begins offering tours of their house.

The third episode, a sappy Christmas concoction called "X-treme X-mas," finds Lizzie attempting to build a float that'll knock everyone's socks off. But when an old man who refers to himself as Santa's helper begins stealing all of Lizzie's assistants, Lizzie refuses to help out and eventually has to learn a lesson about the real meaning of Christmas. The celebrity of this episode isn't revealed until the end, but the big-lipped singer hiding in a Santa disguise isn't exactly tough to identify.

The fourth episode, "Grand Ole Grandma," features guest star Doris Roberts (from Everybody Loves Raymond) starring as Gordo's grandmother. Gordo is shocked to discover that his grandmother has become an entirely different person, forgoing her tradition brisket in favor of sushi and requesting that she be called "gorgeous." Meanwhile, Lizzie and Matt are left to fend for themselves when both their parents are taken out of commission by a nasty cold.

Audio: Lizzie McGuire: Fashionably Lizzie is presented with a Dolby Digital 5.1 soundtrack, and it certainly gets the job done. Surrounds aren't exactly prevalent, but they do pop up every now and then.

Video: This full-frame transfer is sharp and colorful, though it does seem a tad on the grainy side. Still, this certainly beats watching the show on regular TV.

Extras: Oddly enough, the disc's sole extra feature is a bonus episode. Stranger still, unlike the rest of the episodes on the disc, this one's not subtitled. Entitled "El Oro De Montezuma," it follows Lizzie and the gang as they compete on a Spanish language game show called, not surprisingly, El Oro De Montezuma. Meanwhile, Matt's game of hide-and-sick with his friend Lannie escalates to increasingly absurd heights. The disc also includes several Disney sneak peeks, including Home on the Range, Mulan II, Brother Bear, The Lion King II, and The Three Musketeers (along with promos for Lizzie McGuire, W.I.T.C.H., and Kim Possible).

Conclusion: Lizzie McGuire is an enjoyable show that manages to appeal to both kids and adults, and the each episode contains a message that parents will surely appreciate.

Please help support our site by buying this DVD title through this link. Thank you kindly.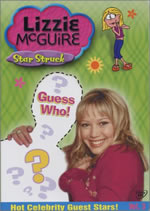 Purchase This DVD

Purchase Promo Poster

Story / Content



Audio



Video



Extras