LIZZIE MCGUIRE: TOTALLY CRUSHED
Reviewed April 12th, 2004 by David Nusair
Lizzie McGuire: Totally Crushed marks the latest package of Lizzie McGuire episodes, courtesy of Buena Vista Home Entertainment. The theme with this collection is love, a subject the series never seemed to tire of.

The first episode, entitled "First Kiss," follows Lizzie (played by Hilary Duff) as she begins dating a boy for the first time. Her friends, Gordo (Adam Lamberg) and Miranda (Lalaine), notice a change in her behavior immediately (Lizzie's completely preoccupied with this new relationship). Gordo has it even worse, as he's apparently been harboring a secret crush on Lizzie for some time now. Meanwhile, Lizzie's brother Matt (played by Jake Thomas) is attempting to procure an ever-elusive Paul O'Neil baseball card. He finally locates one, but the problem is that a girl has it and forces Matt to essentially become her slave before she'll give it to him.

The next episode, called "The Greatest Crush of All," features Lizzie getting a crush on her new English teacher (in fact, all the girls in class wind up swooning over the man). The teacher, Mr. Keith, is going to be at a Scottish festival reading poetry, so Lizzie plans to go there and flirt with him. Meanwhile, Lizzie's dad (played by Robert Carradine) has agreed to babysit the local chimp, much to Matt's consternation (Matt and the chimp have a long-standing rivalry).

The third episode, "Scarlet Larry," opens with Lizzie learning that local nerd Larry Tudgeman (Kyle Downes) has a crush on her. She turns to her mother for advice, who suggests that she go out with him just to make sure they have nothing in common. This, of course, horrifies Miranda, who worries that Lizzie's social status will take a dive once it's revealed she's seeing the Tudge (Larry's nickname). Meanwhile, after Matt and his dad are forced to clean out the shed, they discover an old box-car racer, which they subsequently decide to clean up and enter in a local race.

In "Just Friends," Lizzie decides to finally ask out the boy she's had a long-standing crush on, Ethan Craft (Clayton Snyder). Ethan, however, flat-out rejects Lizzie, which leads to the idea that Lizzie should model herself after Ethan's dream girl. Along with Gordo and Miranda, Lizzie begins investigating Ethan's likes and dislikes, and eventually turns herself into the female version of Ethan. Meanwhile, Matt's come up with an irresistible smoothie recipe, which he parlays into instant success at his new backyard nightclub.

Audio: Lizzie McGuire: Fashionably Lizzie is presented with a Dolby Digital 5.1 soundtrack, and it certainly gets the job done. Surrounds aren't exactly prevalent, but they do pop up every now and then.

Video: This full-frame transfer is sharp and colorful, though it does seem a tad on the grainy side. Still, this certainly beats watching the show on regular TV.

Extras: Oddly enough, the disc's sole extra feature is a bonus episode. Stranger still, unlike the rest of the episodes on the disc, this one's not subtitled. "The Courtship of Miranda Sanchez" follows Miranda as she attempts to deal with her first crush, while Matt and Gordo begin to bond. The disc also includes several Disney sneak peeks, including Home on the Range, Mulan II, Brother Bear, The Lion King II, and The Three Musketeers (along with promos for Lizzie McGuire, W.I.T.C.H., and Kim Possible).

Conclusion: Lizzie McGuire is an enjoyable show that manages to appeal to both kids and adults, and the each episode contains a message that parents will surely appreciate.
Please help support our site by buying this DVD title through this link. Thank you kindly.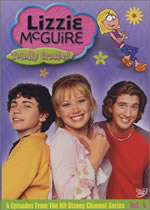 Purchase This DVD

Purchase Promo Poster

Story / Content



Audio



Video



Extras