LOST SOULS
Reviewed March 4th, 2001 by Len D. Martin
Cast: Winona Ryder (Maya Larkin), Ben Chaplin (Peter Kelson), Sarah Wynter (Claire Van Owen), Philip Baker Hall (James), John Hurt (Father Lareaux), Elias Koteas (John Townsend), John Beasley (Mike Smythe), Victor Slezak (Father Thomas), John Diehl (Henry Birdson), Brad Greenquist (George Viznik), W. Earl Brown (William Kelson), Brian Reddy (Father Frank), James Lancaster (Father Jeremy).

Director: Janusz Kaminski.

Story: Maya Larkin was saved from possession years ago by Father Lareaux and now, because of her experience, she has been asked to help assist at an exorcism. Something happens and the exorcism goes wrong and as Maya is leaving she notices pages and pages of numbers and she takes these as she leaves. Deciphering the numbers, Maya learns that they reveal a name, Peter Kelson. Through further research, Maya learns that Satan will assume human form through Kelson on his 33rd birthday. Now, she must convince the Church of this fact and also must convince Kelson that he is the Chosen One of Evil and stop it from happening, if she can.

Audio: Presented in Dolby Digital 2.0 Stereo, Dolby Digital 5.1 Surround, and Dolby Digital DTS 5.1 with English Subtitles. Excellent Sound in Dolby 5.1 Surround.

Video: Presented in Anamorphic Widescreen 2.35:1.

Extras: Commentary by Director Janusz Kaminski and Director of Photography Mauro Fiore; 10 Deleted Scenes With or Without Commentary; Cast and Crew Filmographies; Theatrical Trailer; and the following DVD-ROM features: Script-to Screen and Original; Website.

Comments: This film is shot in subdued color with lots of lighting effects. The reason for this is explained in the commentary and it does help the movie. As you watch the deleted scenes with commentary, some of them should have been left in, and others, especially those involving the exorcism, were not necessary to the plot and were thankfully removed by the Director. All in all, an excellent thriller.
Please help support our site by buying this DVD title through this link. Thank you kindly.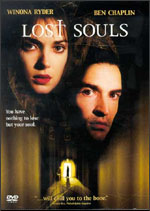 Purchase This DVD
Story / Content



Audio



Video



Extras