MADE
Reviewed December 5th, 2001 by James Thomas
In "MADE", actor, director, producer, writer Jon Favreau plays Bobby, a lousy boxer, who also works as a bouncer for a stripper, who happens to be his girlfriend. Bobby makes an unfortunate mistake during one of his bouncer gigs by punching the wrong guy, who was having a touch too much fun with his lady. The result is a debt he owes to his mobster boss Max (played by Peter Falk). To repay the debt, Bobby has to take a "job". With his dim-witted, annoying buddy Ricky (played by Vince Vaughn, who also co-produced), they are off to New York to meet Ruiz (excellently played by Sean "Puffy" Combs) to perform a "drop". The movie continues to be a comedy of errors, perpetrated mainly by Ricky (who you'll want to kill by the end of the film). Vincent Patore (Big Pussy of Sopranos fame) also makes an appearance as Jimmy, the limo driver, and there are also some cameos from other "Sopranos" cast members (Furio, Adriana), just to keep us in the mob-mood.

The 1.78:1 anamorphic video was pretty good most of the time, but there were a couple of very distracting scenes that were out of focus. I don't know if this was intentional for some artsy reason, but if it was, it didn't work for me. A few of the darker scenes also seemed particularly grainy. The whole film felt sort of low-budget, at least from a cinematographic point of view, but again, that may've been intentional. The 5.1 Dolby Digital soundtrack was fine, although nothing fantastic: minimal use of the surrounds, but everything sounded clear and detailed over-all.

Content wise, Made is pretty much the anti-thesis of Swingers. Where that disc's only special feature was a trailer, Made ups the ante significantly, throwing in everything but the kitchen sink. The most prominent extra here is a commentary track with Favreau, Vaughn and producer Peter Billingsley (best known for his starring role in A Christmas Story!)

The first thing you'll notice about this track is that it comes with an option for "action commentary." What this means is that, if you select it, Vaughn and Favreau will be able to point things out to you on screen "Madden style", as Vaughn calls it. This is actually a pretty good idea – for instance, Vaughn refers to a painting at one point, and then draws a circle around it. I would expect that this isn't the last we'll see of this feature. The commentary itself is consistently entertaining and informative, and often very funny. Vaughn and Favreau have been buddies for a long time, and it shows. They have no problem make fun of each other or making fun of their friends – most of whom worked on the film in some capacity or another. A great track.

Up next are three featurettes, starting with Getting It Made. This nine-minute doc covers basically the entire process of, you guessed it, getting it made. Through interviews with the various people involved in the process (including producer Billingsley), we find out exactly what it takes to shoot a film for $5 million. Although much to short, this is a very interesting look at the pre-production phase of the flick.

The next featurette, called The Creative Process, runs about 15-minutes and deals mostly with the making of the movie. A large chunk of this doc is devoted to the script (which was written by Favreau) and his ability to allow the actors to deviate from his words. This is comprised mostly of interviews with Favreau and the other cast members, and proves to be an eye-opening look at how Favreau works not only as a writer, but as a director.

Finally, the last featurette – called Making the Music of Made – runs about 16-minutes and obviously covers the music in the film. Initially, though, it just seems to be a look at how a bunch of friends got together and made a movie. Most of the people that were responsible for the music are friends of Favreau and Vaughn; we're even shown some old pictures of the duo hanging out with the music folks. But the doc eventually settles into a serious look at how music was selected for inclusion into the movie and what the composer was thinking of while he was working on the score.

This is probably the least interesting of the three featurettes, though if music is your thing, you'll probably dig this. The oddest thing about these three documentaries is on the featurettes menu, there's an option to play them consecutively. But for the "additional scenes" section, you have to select each sequence individually – which gets to be a real pain.

Speaking of additional scenes - that just happens to be the next section. Under the heading of More Made Footage, the first section contains four deleted scenes and an alternate ending. None of these sequences are throwaway, and all are just as entertaining as the rest of the movie (one scene set inside a mobsters waiting room, with Favreau flipping through a homemaker's magazine, is particularly humorous).

Up next are nine outtakes, totaling 22 minutes. These are all alternate takes of existing scenes, most of them rendered unusable due to Favreau laughing at Vaughn's antic. A lot of this stuff is really funny, and at times, more laugh-inducing then the actual scene the outtakes have been taken from (check out the one outtake that sees Vaughn utter a certain "F" word 20 times in the space of about a minute – as tallied by an on-screen counter).

Next, we've got 34-minutes of alternate scenes, accompanied by optional commentary. These are all extensions of existing scenes, and most don't really add anything valuable to what was already there. But it is interesting to see the evolution of a scene, and with the commentary, you get the reasons behind the trimming.

The next section houses used and unused music cues from the film. The used cues total 20 minutes, while the unused cues run for about 46 minutes. This is a nifty feature that will likely be enjoyed a lot more by those into soundtracks.

Next up is a scene edit workshop. Here you get to choose from different takes and compile a scene. This isn't a bad feature, though you've got to be really patient, since it takes a while to watch each take. Finally, the disc is rounded out with some cast/crew info and production notes, and a teaser and a trailer.

There is also a great hidden feature on the disc. Go to the "more Made footage", then select "alternate scenes", then "double cross". After that press on the left arrow button and "M" will show up and press enter. Press the left arrow again and "A" will show up and press enter once again. Press the right arrow and "D" will show up - and you guessed it - press enter once again. Finally hit the right arrow again and "MADE" will show up then hit the enter key. After all that you'll be shown a longer version of the infamous lapdance scene.

The story on this DVD is excellent, held my interest throughout, and had a decent ending. If you like mob-movies (and who doesn't with Sopranos-mania these days) with a comedic twist, run out and get this DVD; while your at it, get Favreau's "Swingers" also.
Please help support our site by buying this DVD title through this link. Thank you kindly.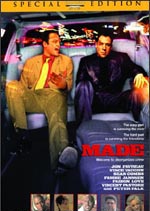 Purchase This DVD
Story / Content



Audio



Video



Extras