MAN ON THE MOON
Reviewed May 21st, 2000 by John Randall
Andy Kaufman was a unique man who many Americans loved and many of them hated him as well. During Andy's life, he didn't think of himself as "funny", but did think he was entertaining.

Most people remember Andy Kaufman's performances on the hit show "Taxi" and maybe the first episode of Saturday Night Live, but beyond that his career was hit and miss.

Man on the Moon is a dramatic presentation of Andy Kaufman's life. The movie partially was based on his closest friend and colleague Bob Zmuda's book about his experiences with his friend. The book showed a completely different side to Andy and the movie does just that as well.

While Andy was a comic genius and people (especially women) learned to hate him – inside Andy was a loving caring man who in the end did not get a chance to let the world know that most of what he did in life was just an act.

You can't forget Andy's alter-ego Tony Clifton – the drunk Vegas lounge singer. Don't know who he is? Watch the movie.

When Andy died of Cancer, many thought it was just another joke – even his closest friends, family and of course the press.

The movie stars Jim Carrey as Andy and it is eerie to see how Jim becomes Andy on the screen. Those who knew Andy were surprised to see all the similarities as well. Jim's performance ended up winning him a Golden Globe and it seems to this reviewer that he earned it through and through.

If you watch the credits (you are kind of forced to – without giving anything away), you will notice that there are a lot of people playing themselves in the movie. The real hard part in the movie was what to do about Danny DeVito who played Andy's manager George Shapiro in the movie. Danny DeVito was also a member of the cast of Taxi and they couldn't figure out how to do the Taxi scenes – so they just ended up excluding him. All of the other Taxi cast members played themselves.

Courtney Love was also in the movie playing Lynn Margulies, Andy's girlfriend and the increasing popular Paul Giamatti (Negotiator among other films) plays Bob Zmuda.

People playing themselves include: Jerry Lawler the now infamous wrestler, Lorne Michaels (SNL), Richard Belzer, David Letterman, of course the cast of Taxi and even Howdy Doody.

The movie itself is sometimes hard to understand if you've never seen Andy's work before, but in the end the movie is very touching with an ending that is very powerful on screen. The main question (which the movie itself shows in the final seconds): is Andy really still alive?

The DVD is presented in 2.35:1 anamorphic widescreen and is great, but isn't perfect. Since it is a newer film, you would think that the image would be in top shape, however generally the image is a bit dark, and colors and fleshtones seem a bit off sometimes.

The audio is presented in both Dolby Digital 5.1 and DTS 5.1 and both are very good as well. The movie is mostly dialogue so surrounds are not used that frequent and neither is the LFE channel. Dialogue seems clear and so does the musical moments in the film.

The DVD could have contained much more bonus material than what was included. I would have really liked to have seen the original SNL performance, and some live footage of Tony Clifton – but we do get a little taste of extras.

There is a 19 minute behind-the-scenes look at the movie with interviews which was fun to watch and 20 minutes of deleted scenes. Also included are REM's music videos of "Man On The Moon" and "The Great Beyond" and 2 trailers.

The best feature is some unadvertised easter eggs. If you go to the "Andy" section of the bonus material – there is text telling about Andy's life of sorts. On some of the pages you will see small pictures of Andy and if you choose them you will see some clips of the real Andy performing. Included is the infamous wrestling match between Andy and Jerry Lawler (really nice to see after the movie) and also "the cat goes moo" song.

In conclusion, the movie is wonderful and the DVD is great but not perfect. The movie runs about 119 minutes and is rated R.
Please help support our site by buying this DVD title through this link. Thank you kindly.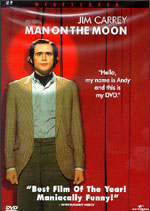 Purchase This DVD
Story / Content



Audio



Video



Extras