MASH: SEASON ONE
Reviewed January 27th, 2002 by Dan Jones
What can one really say about M*A*S*H? Adapted from the popular movie, M*A*S*H the TV-series quickly became one of the most popular series ever created, running from 1972 to 1983. M*A*S*H is set during the Korean War, revolving around the 4077th Mobile Army Surgical Hospital. These doctors, nurses and soldiers push through the war using humor, even in the harshest of circumstances.

I must admit that I was not around to see any of the original airings of M*A*S*H (unless I watched them when I was two-years-old, forgive me for not remembering...) but have watched a number of the episodes during their never-ending syndication. Finally being able to watch the first season in its entirety on this DVD allowed me much greater insight into this extremely popular phenomenon, simply known as M*A*S*H. This is truly an excellent TV-series that should no doubt stand the test of time for its somewhat difficult plot line, yet skillful use of comedy to show that we must find the best of things, even in the worst of times, if we are to live a happy and fulfilling life. I believe this should ring true in all of us.

The complete episode listing, twenty-four in all, spanning over three DVDs is as follows: "The Pilot," "Henry, Please Come Home," "To Market, To Market," "Germ Warfare," "The Moose," "I Hate A Mystery," "Chief Surgeon Who?" Requiem for a Lightweight," "Cowboy," "Yankee Doodle Doctor," Bananas, Crackers and Nuts," "Edwina," "Dear Dad," "Love Story," "Tuttle," "The Ringbanger," "Dear Dad...Again," "Sometimes You Hear the Bullet," "The Long John Flap," "Major Fred C. Dobbs," "Sticky Wicket," "The Army-Navy Game," "Cease-Fire," and "Showtime."

Yet, I have to believe that if you are interesting in purchasing this TV-series on DVD, you have probably seen a good deal of M*A*S*H episodes and already know that it was, and still is, one of the best TV-series ever made, as well as the actors and actresses that were a part of it... so, with that in mind, lets get right on to this DVD release.

Presented in their original broadcast aspect ratio of 1.33:1, this is definitely the best these episodes have ever looked. It seems Fox truly put some time and effort into restoring this incredible series. Neither edge enhancement, nor compression problems are noticeable. Colors are fairly good for the age of the show, and contrast is good throughout. This is not to say this is reference quality, because that is nowhere the truth; yet, for the age of the show, the presentation is truly impressive. Kudos to Fox for putting some effort into restoring this nearly thirty-year-old show.

Unfortunately for audio, not much could have been done. This first season of M*A*S*H has been presented in mono, and overall, does not offer much over their broadcast release. For the most part, as one would assume, this mono track is lacking quite a bit overall, but does not offer any real problems besides its obvious low fidelity. Also included are English and Spanish subtitles, as well as English closed captions. Nicely enough, we get an optional laugh track, so for those that are like me, the oftentimes-annoying laugh track can be easily disabled.

As for extras, we are given quite a let down. No extras are included... none. Perhaps future seasons??? I can only assume there has to be some M*A*S*H material out there that we have not seen...

Overall, M*A*S*H is an incredible series that set the bar for future shows to live up to. The show is very funny, even considering the subject matter it had to work around. For any fan of M*A*S*H, or quality television in general, this is a required purchase. Even with its lacking audio fidelity and complete absence of extras, this complete first season of M*A*S*H bodes well just by itself. Plus, it's very inexpensive. Highly recommended.
Please help support our site by buying this DVD title through this link. Thank you kindly.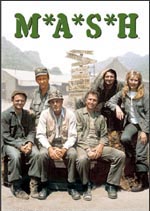 Purchase This DVD
Story / Content



Audio



Video



Extras