MAX KEEBLE'S BIG MOVE
Reviewed August 6th, 2002 by David Nusair
You know you're in trouble when the movie you're watching makes Snow Day look edgy by comparison.

Max Keeble's Big Move is a kiddie movie, plain and simple. There are few references aimed at adults (the key to making a children's flick accessible to us grown-ups) and the whole thing is just juvenile. Alex D. Linz stars as the title character, a semi-popular kid who's preparing to start his first day of junior high. Along with his two best friends – a weirdo who's always wearing a robe and a girl who secretly has a crush on Max – Keeble confidently makes the switch from being a big fish in a small pond to a small fish in a big pond. Alas, it's not quite as seamless as he would have hoped, as he has to contend with not one but two bullies, a sinister ice cream man, and a stern principal. But Keeble is offered a chance to fight back when he learns that he's going to be moving to Chicago by the end of the week. Assuming he'll never be back, he decides to get revenge on everyone who's wronged him. It's only after he's put his elaborate plans into motion that he discovers the move isn't happening after all. Now, Max has to figure out a way to mend the many bridges he's burned.

Max Keeble's Big Move will no doubt appeal to small children, with sequences involving food fights and school bullies receiving their comeuppance, but the film is a complete dead zone for anyone over a certain age (most likely 12). It's loud, it's colorful… it's annoying. Unlike, say, a Pixar movie, Max Keeble's Big Move isn't interested in keeping us adults entertained by throwing in sly references that are guaranteed to sail right over most kids heads. Rather, the film contains references aimed directly at the core audience (Mr. Belding from Saved by the Bell has a cameo, for crying out loud!) Well, okay, truth be told I did enjoy that cameo, but that doesn't change the fact that watching the movie is akin to sitting inside a Chuck E. Cheese for an hour and a half.

There was exactly one really enjoyable moment during Max Keeble's Big Move – a school band plays Twisted Sister's "We're Not Gonna Take It" – but the rest was just over-the-top loudness.

Audio: The movie is presented with a DD 5.1 soundtrack and it's surprisingly aggressive. The food fight sequence is a good example of this, with various cafeteria fodder flying around you. Dialogue is crisp and clear, and the score never feels intrusive.

Video: However, this transfer is a real disappointment. Disney has once again screwed the home video consumer by only releasing a full frame edition of the film, like Snow Dogs before it. While the image itself is bright and colorful, that doesn't really matter considering it's not the proper aspect ratio. C'mon Disney, wise up.

Extras: First up is a commentary track featuring actors Linz, Larry Miller, and Jamie Kennedy, along with director Tim Hill and producer Mike Karz. This commentary track is uniformly awful, with little information dispensed. The majority of the track consists of the five participants talking over one another, with Linz the worst offender. He routinely just blurts out whatever's going through his head at the moment, even if it has nothing to do with the scene in question. Perhaps this is why kids are rarely featured on commentary tracks. Next up is a seven-minute featurette detailing Linz's experiences working on the film. There's actually a substantial amount of behind-the-scenes footage here, so this is worthwhile for fans of the film. Next are 13-minutes worth of deleted scenes (there are 12 of 'em), but given how much the movie sucks, it's not surprising that there's nothing here worth checking out. There's also a game included, where you're supposed to roam the halls and pick up clues. Presumably there's a prize of some sort upon completion, but I lost patience with it fairly early on. Finally, the disc includes the usual "sneak peek" trailers and mini-trailers (Beauty and the Beast 2, Spy Kids 2, The Rookie, Monsters Inc, Air Bud: 7th Inning Fetch, Tarzan and Jane, Schoolhouse Rock, Haunted House of Mouse, Teamo Supremo, and Snow Dogs). Oddly enough, no trailer for Max Keeble's Big Move is included.

Conclusion: If you're looking for something to amuse your small children, look no further. Just make sure you're far, far away while it's playing.
Please help support our site by buying this DVD title through this link. Thank you kindly.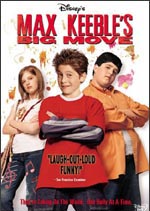 Purchase This DVD
Story / Content



Audio



Video



Extras