MEET JOE BLACK: ULTIMATE EDITION
Reviewed June 28th, 2001 by John Randall
"Careful Bill, you'll give yourself a heart attack and ruin my vacation..."

What happens when you take a hunk (Brad Pitt), a princess (Claire Forlani), and throw in one of the finest actors ever (Anthony Hopkins)? You get good actors. What happens if you mix in an insanely good story with the actors? You get a damn good movie.

Death (Pitt) decides to check out Earth for himself. Death makes an agreement with an older rich man named William Parrish (Hopkins) to extend his life a bit if Parrish will show Death around a bit. Unfortunately, Death ends up falling for Parrish's daughter (Forlani) and Parrish doesn't like that very much at all. In the end will Parrish escape death and what will happen to Parrish's daughter now?

The movie (directed by Martin Brest who did "Beverly Hills Cop") has some very moving moments and some very humorous ones. The movie drags in some parts due to its three-hour length, but the storyline keeps you interested during most of it.

All three main actors are top-notch in this one.

The video is presented in 1.85:1 anamorphic widescreen and is excellent. The film in general is pretty dark and the DVD shows detail very beautifully even in the darkest scenes.

The audio is presented in Dolby Digital and DTS 5.1 and is wonderfully done. Of course the DTS track sounds a bit better putting you more into the surrounding action.

Once again Universal has put out another of their 2-disc Ultimate Editions with some really fun extras. First up is the complete 1934 movie "Death Takes A Holiday" which "Meet Joe Black" is kind of based on, a "Spotlight on Location" featurette, photos, production notes, bios, a trailer and more.

I have to say this is a really intriguing film and this DVD is great for fans of the film. The addition of the "Death Takes a Holiday" film is a major plus since its 80 minutes long. If you have yet to see this gem a film - get it.
Please help support our site by buying this DVD title through this link. Thank you kindly.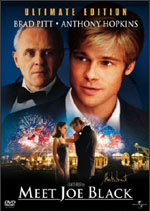 Purchase This DVD
Story / Content



Audio



Video



Extras