MEET THE PARENTS
Reviewed March 11th, 2001 by Brian White
Meet the Parents was a big hit last fall. For weeks, it seemed to be the number one movie at the box office, and it received rave reviews. Certainly is wonderful to have such a HUGE actor, Robert Di Niro, in such a silly comedy. Director Jay Roach, who did the Austin Powers movies, was begging the studio not to give away all of the jokes in the trailers and TV spots, but they did anyway. It was said many times that the best parts of the film were in the ads. For that reason, this reviewer held off until the video release to see the film. I must admit that despite all of the ads for this film, it is a very entertaining viewing, and there are still lots of surprises and laughs. All told, this is a very funny movie. Ben Stiller is, as always, perfect. This movie seems to be made for him. Di Niro (who plays Stiller's love interest's father) is also great, and seems to be having a lot of fun, especially if you view the out-takes. All performances are top notch.

So the movie is about every guy's nightmare come to life: the nerve-racking experience of meeting your girlfriend's parents and trying not making an arse of yourself. The odds are certainly stacked against "Greg," Stiller's character. As it turns out, Di Niro's character is a retired CIA officer who has also invented surveillance equipment as a hobby. In addition to the future father-in-law, are the other difficult characters that make "Greg" feel awkward professionally and personally.

The obvious chaos ensues, and Stiller really gets a chance to shine. Some of the comedy is slapstick; other comedy is more cerebral. All said, Stiller is best in awkward situations. It is sometimes very difficult to watch this movie. That is a sign of brilliance.

The DVD is presented in anamorphic, 1.85:1. The transfer is of the excellent quality that you'd expect from a big, flashy Hollywood production. The movie takes place in New England in the autumn, so there is pretty scenery, but most of the film takes place indoors.

The DVD is presented in both Dolby Digital and DTS 5.1 surround. The movie certainly sounds good, but it is not the most dynamic surround mix. This seems to be the case most of the time with comedies. It's great that the two mixes are available, but they are somewhat superfluous.

For extras, there's a commentary by Roach, a behind the scenes-type featurette, deleted scenes and some funny out-takes. This is a generous package, without being too much. Points should also be awarded for the inclusion of both 5.1 mixes.
Please help support our site by buying this DVD title through this link. Thank you kindly.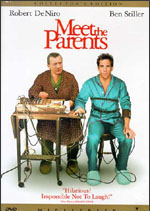 Purchase This DVD
Story / Content



Audio



Video



Extras