MEN IN BLACK: LIMITED EDITION
Reviewed August 21st, 2000 by John Randall
"1500 years ago, everybody knew that the Earth was the center of the Universe. 500 years ago, everybody knew that the Earth was flat. And 15 minutes ago, you knew that humans were alone on this planet. Imagine what you'll know tomorrow..."

If you've never heard of this movie, then something must be very wrong. If you haven't seen it, then you are really missing out. After all, it is one of the highest grossing movies of all time - and deserves that honor!

Three years after it was originally announced for release on DVD, we finally got it! And this disc set is really a winner.

The story is pretty much simple: Aliens are living on Earth and there is a secret government agency in charge of not letting the public find out about it.

Will Smith plays a New York police officer that comes across a man who really isn't human at all. A strange man appears (Tommy Lee Jones) to try and cover it up. "K" believes in James' (Smith) abilities so he recruits him to become a man in black.

While all this goes on, a strange being called a "bug", lands on Earth, takes over a human body, kills people and searches for something called the "Galaxy". It's up to the men in black to stop the bug, and get the Galaxy back before Earth is destroyed.

This movie is very very funny and has some really cool special effects. The sound effects alone will jerk you out of your seat sometimes.

The movie also has a great cast! Will Smith and Tommy Lee Jones pair up nicely. The other main cast includes Linda Fiorentino as Dr. Weaver, Rip Torn as Zed, and Vincent D'Onofrio doing a great job as Edgar / the Bug.

Was the DVD worth the wait? Columbia Tri-Star did it right! Don't worry about that!

The movie is actually being released in 3 different forms. The limited edition is a 2-disc set with widescreen and full screen options and in Dolby Digital 5.1. Then they are releasing the one disc only widescreen collector's series edition in Dolby Digital and one in DTS. Maybe it would have been better for the limited edition to drop the full frame and have DTS on the same disc instead.

Anyway, this limited edition is still wonderful.

The video is presented in 1.85:1 anamorphic widescreen and also 4:3 full frame. Both transfers look wonderful and are almost perfect. Colors and black levels seem dead on.

The audio is presented in Dolby Digital 5.1 and is better than was expected. It is truly amazing and will engulf you in the action. The surrounds are used wonderfully and so is the LFE channel. There are some scenes that are almost shocking at how good they sound.

Commentary with the director Barry Sonnenfeld and Tommy Lee Jones and one with Sonnenfeld and the tech crew; a few deleted scenquences; a short "Metamorphosis Of Men In Black" featurette; a short original making-of featurette made in 97; a multi-angle look of the Tunnel sequence; storyboard-to-screen comparisons; a storyboard, conceptual art and still gallery.

Even more extras include an interactive scene editing where you pick the best angles for a few different scenes (very cool); a featurette called "Creatures: Concept To Completion" where you see different concept drawings of some of the aliens; a cool feature where you can see the special effects at different stages like blue screen, no special effects, or just the animation - all using the angle button.

Lastly also is an animation development segment; Will Smith's "Men In Black" music video in 2.0 (why not 5.1??); talent files; trailers; DVD-Rom features; a 12 page booklet and a reproduction of a conceptual drawing (some of them will be autographed - most will have pre-printed signatures on them).

That's a LOT of extras and will take you plenty of time to go through them all. The best one of all of them has to be the area where you can use the angle button to see the different make-ups of the special effects. Check out where Will Smith is holding onto the Bug's tail and watch the blue screen version of it.

This movie is a great sci-fi funny movie. Columbia Tri-Star has gone and made an absolutely wonderful DVD set. Get it.
Please help support our site by buying this DVD title through this link. Thank you kindly.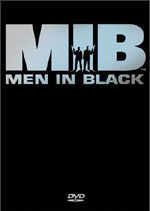 Purchase This DVD
Story / Content



Audio



Video



Extras