MISSION IMPOSSIBLE
Reviewed June 23rd, 1999 by Staff
Mission Impossible, Tom Cruise's Last attempt at glory? Opinions will vary on this movie. An aging Tom Cruise plays Ethan Hunt, a spy for the U.S. that finds himself quickly gathering the blame for being a mole. Some money and the right personnel, along with the help of an arms dealer named Max, lead him to uncover the true mole. Many twists will lead you to blame just about every main character in the movie. Ethan devises a scheme to nab the mole, Max and set his name clear. Does it all work? You will have to see. This movie also has many Bond like special gadgets which makes it a cutting edge, fun, edge of your seat movie.

The Video quality is superb, with very accurate and clear colors with no signs of bleeding. NO grain at all is apparent in the transfer. The blacks are deep and dark with out any artifacts.

The audio is aggressive, but was not the best that dvd has to offer in the Dolby Digital 5.1 format. The surrounds are used somewhat, but the overall vocals were soft and if you turned up the volume to hear the voices the earth shattering action scenes will throw you through the wall! This is one of the few DVD's that have this problem. Still very clear and you can hear every drip of sweat!

Extras, wait what extras? There are none. But we are supplied with subtitles, both widescreen and Pan & Scan versions of the movie along with Dolby Prologic and Dolby Digital 5.1 audio tracks. There is also a French Dolby Surround sound audio track. The menu's are not animated and have no audio, which makes them rather boring. They are easy to navigate and unfortunately you must select Widescreen and Dolby Digital 5.1 as these are not the defaults!

Overall a great movie, excellent transfer and if you can pick it up for under $15 dollars it is a great addition to any DVD collection.
Please help support our site by buying this DVD title through this link. Thank you kindly.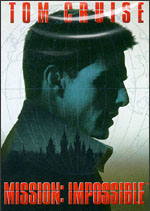 Purchase This DVD
Story / Content



Audio



Video



Extras