MISSION TO MARS
Reviewed March 25th, 2001 by Todd Terwilliger
In the year 2020, the first manned mission to Mars, commanded by Luke Graham (Don Cheadle) has landed without incident. However, disaster strikes as his team checks out an anomalous feature of a Martian mountain. All communication with Earth is lost. Three of Graham's close friends, Woody Blake (Tim Robbins), Jim McConnell (Gary Sinese), and Terri Fisher (Connie Nielson), succeed in pushing for a rescue mission. The three, plus Phil Ohlmeyer (Jerry O'Connell), set off to find the missing Graham and discover what went wrong on Mars.

Mission to Mars (M2M) is one of those films that displays glimpses of great promise but fails to deliver. Directed by Brian De Palma, the camera work is nice but the film hinges on rather hackneyed concepts of Mars and the finale is straight out of Kubrick's 2001, minus the latter film's poetry and inventiveness.

All the actors do solid jobs but not one performance left me impressed. There's not a heck of lot for them to work with and the few sub-plots thrown in the mix are nothing above average fare.

The video, in anamorphic 2.35:1 widescreen, is clear and crisp. The rreds of the Mars landscapes are beautifully rendered and the blacks, if not quite what they could be, are well done. A few scenes show some artifacts but they are few and far between and not too distracting.

M2M is a nice sounding film. The Dolby Digital 5.1 EX surround track is very spacious. The split rears are used to good effect and the several scenes feature strong use of the LFE channel. Although the movie itself does not rely often on sound, when it does, the soundtrack delivers in spades.

For a film that basically was a dog at the box office, Touchstone threw plenty of extra material onto the disc. Along with a commentary by a few of the FX guys, there's a documentary, a production art gallery, theatrical trailer and some DVD-ROM specific material. No single feature is a slam dunk but together, it's a fairly nice collection, especially for a non-Special Edition disc.

Mission to Mars is a science-fiction film best suited for people not familiar with science-fiction. For the sci-fi aficionado, there is simply too little new ground broken, and little broken well enough, to hold much interest. But for those who do not make many forays into the sci-fi universe, there may be enough here to tide you over.
Please help support our site by buying this DVD title through this link. Thank you kindly.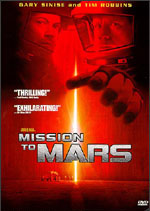 Purchase This DVD
Story / Content



Audio



Video



Extras