MONA LISA SMILE
Reviewed February 28th, 2004 by Steve Jackson
"Don't disregard our traditions..."

Mona Lisa Smile is set in 1953 – a time when things were far different than today – especially for women. Julia Roberts plays Katherine Watson who takes a teaching position at a boarding school for girls. When she arrives, she notices how old fashioned the teachings are at the school and tries to open up the minds of the young women around her. Basically she wants to get across to them that a women's place isn't always behind a vacuum cleaner. In 1953 it was very common for a woman to get married young and neglect her other dreams - other than taking care of a home and family.

Talk about a cast of a million faces: Along with Julia Roberts, there is Kirsten Dunst (Spider-Man), Julia Stiles (Save the Last Dance), Maggie Gyllenhaal (Donnie Darko / Secretary), Ginnifer Goodwin (TV's ED), Marcia Gay Harden (Space Cowboys), John Slattery (TV's ED), Topher Grace (TV's That 70's Show) and even singer Tori Amos.

The film itself has its hits and misses. Mona Lisa Smile is a bit too predictable, but you will have to be the judge of course. The ending seems to be a little rushed as well.

The video is presented in 1.85:1 anamorphic widescreen. Overall, the image is very clean – but can look kind of soft. The film has a unique old-fashioned look, and is represented very well on the DVD. Doesn't appear to be any compression problems either.

The audio is present in Dolby Digital 5.1 and is pretty good throughout (an alternate DD 2.0 French track is also included). Most of the sound comes from the front stage with the rear speakers hardly being used. Dialogue and music sounds just fine.

The disc does contain a few extras. For starters there are 3 featurettes entitled "Art Forum" which is 6 minutes, "College Then and Now" which is 14 minutes, and "What Women Wanted: 1953" ending in about 10 minutes. All three featurettes contain clips from the film as well as interviews shown in full-frame.

Next, there is the music video for Elton John's "The Heart of Every Girl" presented in widescreen and Dolby Digital 2.0.

There is a whole section of great trailers on the disc too. Included is widescreen trailers for 'Mona Lisa Smile', '13 Going on 30', 'Spider-Man 2', 'Big Fish', Something's Gotta Give', 'The Company', '50 First Dates', 'My Best Friend's Wedding', 'America's Sweethearts' and 'Step Mom'. All the trailers are in Dolby Digital 5.1 besides My Best Friend's Wedding which is in DD 2.0.

Lastly, the disc contains English and French subtitles and selected filmographies.

Some people will easily enjoy this film, but some will easily see that it doesn't really deliver by the end. The cast is great, but the DVD is really only recommended for fans or maybe worth a rental.
Please help support our site by buying this DVD title through this link. Thank you kindly.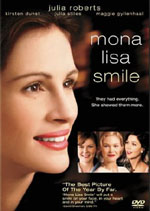 Purchase This DVD

Purchase Promo Poster

Story / Content



Audio



Video



Extras