MONKEYBONE
Reviewed August 9th, 2001 by David Nusair
After the critical and financial drubbing at the box office earlier this year, one wouldn't expect Monkeybone to be anything more than a 90 minute waste of time. But what a surprise it was, then, to discover that Monkeybone - while nothing special - is quite an enjoyable live action / animated flick.

Brendan Fraser stars as Stu Miley, a successful cartoonist who's creation, Monkeybone, is about to make him a very rich man. But after he's sent into a coma by a car crash, he finds himself in a strange world where his animated alter ego has come to life. The duo team up to find a way for Stu to get back to reality, but - at the last minute - Monkeybone betrays Stu and goes back in his place.

Monkeybone is kind of like a Tim Burton movie - except it wasn't directed by Tim Burton. In his place is Hentry Selick, who previously helmed The Nightmare Before Christmas (Monkeybone is his first live-action feature). While Selick doesn't possess the skill Burton has (no character stands out as much as, say, a Beetlejuice or an Edward Scissorhands), he's quite adept in creating this way-out-there world. The "coma world" is incredibly original and a visual feast for the eyes - in addition to being just a little bit scary (kids under 10 probably won't have a good time with this movie).

As Stu, Fraser is quite good, although he's prone to some over-the-top histrionics as Monkeybone-Stu. As his girlfriend, Bridget Fonda provides the film's basis in reality, bringing real emotions to her part. And as Monkeybone, John Turturro is completely disguised in this weird voice that's not really reminiscent of anything (and that's saying a lot).

Monkeybone isn't perfect - it goes on a bit too long and the plot is stretched incredibly thin - but it's very entertaining and worth a look.

Audio: Surprisingly enough, this DVD of Monkeybone comes equipped with both a DTS 5.1 and DD 5.1 track. And, not surprisingly, the difference between the two is negligible. In the scene in which Stu first arrives in "coma town," the DTS track does provide more bass and a far more expansive soundscape - with sounds seemingly emanating from all around the room - but the DD track is equally adept at providing these sounds (although not with quite as much depth). There is also a Dolby surround 2.0 track.

Video: Monkeybone is presented with an anamorphically enhanced 1.85:1 transfer and it's great. The real life stuff as well as the animated sections all looks beautiful, with the dark areas spotless and the colors vivid and bright. This is a nice transfer.

Extras: The first extra is a commentary track with director Henry Selick. This is a dry, but informative, track - but don't expect any dirt regarding the failure of the film at the box office. The closest he comes to that is, during the end credits, mentioning that he and producer Chris Columbus were not a good match (their ideas for what should have remained in the film differed). Next up are 11 deleted scenes, along with optional commentary. These are pretty good, but the commentary lacks. Selick doesn't explain (most of the time, anyway) why these scenes were shortened and this is especially irritating in the case of the sequence in which Stu falls into his coma. The extended scene makes more sense than the theatrical scene, but we never find out why it was shortened. There's also an alternate ending (by the way, all these clips are letterboxed, but not anamorphic). Up next are seven short featurettes on how the special effects and stop-motion animation was accomplished. These are quite interesting, and several of them are even accompanied by commentary. Next is a still gallery, with pictures of everything from merchandise to set designs to early Monkeybone drawings. This is really extensive and will likely take you quite a while to get through. Finally, there's the trailer (non-anamorphic) and three TV spots.

Conclusion: As long as you lower your expectations significantly, you may just enjoy Monkeybone.
Please help support our site by buying this DVD title through this link. Thank you kindly.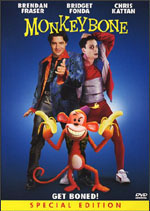 Purchase This DVD
Story / Content



Audio



Video



Extras