MONSTER'S BALL
Reviewed June 17th, 2002 by Steve Jackson
When this film originally was released at the theaters, I really had no real need to see it. Maybe the previews for it did not give me any curiosity, but when I sat down to view the film – I was pretty blown away. Seriously. Halle Berry even went on to win an Oscar for her role.

The basic storyline is about Hank (Billy Bob Thorton) and his life as a prison guard, his son Sonny (Heath Ledger) and his father (Peter Boyle).

We are introduced to Lawrence (Sean Puff Daddy Combs) who is about to die in the electric chair and his wife Letica (Halle Berry) and their son. After Lawrence's death, coincidences lead Hank and Letica to hook up and help each other cope with their lives.

Going more into the plot and each actor's roles would give too much of the 'good stuff' away, so we will leave it be. Most people will find the story very compelling though – right up to the very last minute.

Overall, I would say Heath Ledger did the best acting in the film, even though he had less screen time than anyone else did. Sean Combs was also another shocker – very well done job indeed. Both Berry and Thorton did a good job as well. If you are an aspiring actor/actress, you want to watch this film.

The DVD is presented in 2.35:1 anamorphic widescreen and is very clean with just a bit of grain here and there. Colors and black levels almost seem perfect. No digital compression problems were noticed, and there is no noticeable edge enhancement, resulting in a surprisingly detailed film-like transfer.

The Dolby Digital 5.1 soundtrack is even better than the video transfer. Obviously, this is a dialogue heavy film, but the mix providing gives quite an enveloping affect nonetheless. Surrounds are used subtly, but nicely, and the LFE does come into effect here and there. A Dolby Digital 2.0 track is also provided. English closed captions, English subtitles and Spanish subtitles are included.

For such a low budget film, the audio and video presentation here is well beyond what I anticipated.

The disc has a few good extras goodies. Included are two audio commentaries: the first one is done by the director and the director of photography. The second is by the director and actors Billy Bob Thorton and Halle Berry. If I had to choose one to listen to, I would go with this one if for no other reason then that it is more enjoyable to listen to. Rounding out the extras are two featurettes (8 and 4 minutes, respectively), a total of seven deleted scenes, and a full screen (blah) trailer. There might not be a ton of extras here, but what we are given is solid.

Whatever you may have heard about the film – including the now infamous sex scene – this is a very entertaining film directed towards an adult audience. If you are a fan of film, or just enjoy well-acted, thought-provoking films, this is required viewing; if you're one that doesn't like controversial films that make you think… perhaps you should look elsewhere. This solid DVD presentation makes it just that better. Highly recommended.
Please help support our site by buying this DVD title through this link. Thank you kindly.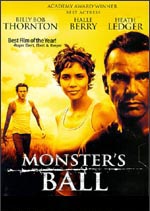 Purchase This DVD

Purchase Promo Poster

Story / Content



Audio



Video



Extras