MONSTERS, INC.
Reviewed September 20th, 2002 by Brian White
"Now take Bigfoot for example. When he was banished, he made a hat out of Poison Ivy. Wore it like a tiara. Called himself "King Itchy".

Have you been wondering when Pixar's lucky streak would run out? You saw Toy Story, and it was great. Lightning in a bottle. They will never do that again. Bug's Life: it won't be as good. Holy Crap, it's fantastic! Toy Story 2: this thing was supposed to be a direct to video release. Disney only put it on the big screen to make an extra buck. It's better than the first one! There is no way that they can keep this run going. This Monster movie is going to be the first dent in the armor. Well, it's not. Monsters, Inc. is stunning mostly because it is as magical as the other Pixar flicks. I don't know when their luck is going to run out, but it certainly hasn't yet.

The premise behind Monsters, Inc, is that there really are monsters coming out of your closet to scare the crap out of you when you turn off the lights. They're scaring you for power. Their city, Monstropolis, is powered by children's' screams. The best scarer of them all is Sulley, voiced by John Goodman. His over talkative sidekick is Mike, voiced by Billy Crystal. Crystal turned down the part of Buzz Lightyear in Toy Story in protest of Robin William's less than happy account of his experience with Disney doing Aladdin. Crystal claimed to regret it ever since, and has now entered the world of Pixar. Despite how entertaining Crystal's performance is, it is Goodman who owns this show and brings it all together.

Sulley accidentally brings a little human girl back into the monster world with him. Complete and utter chaos ensues. Pixar really knows how to both entertain and pull at the heartstrings; and I have to say that Boo, the little girl absolutely defines cute. You empathize completely with Sulley when he falls for this little girl, and cannot let anything bad happen to her. This is a fun flick that really involves you.

So, the story is great, and the performances are great, but what has Pixar done to impress us this time? Plenty. The hair on Sulley is a wonder. It is amazing to watch the way it behaves, when it is blown by the wind, or affected by different environments. Also, some of the texture work is really interesting. This is a well put-together film that stands on its own two feet, not riding the coattails of any past Pixar success.

So, how does the movie look on the disc? You've been spoiled by the Toy Story and Bug's Life direct digital transfers. This transfer is as close to perfect as I have seen. Sure, it is not HDTV, but a better demonstration DVD would be hard to find. I was constantly repeating, "Wow, that looks great" as though I was watching my first DVD. Despite the many great DVD transfers over the years, this one will still raise an eyebrow. It is presented in 1.85:1 anamorphic widescreen. This has reference quality written all over it.

The sound on the disc is Dolby Digital 5.1 Surround EX. As with past Pixar flicks, there is a very dynamic, large soundstage. There are some great environmental effects that will have you looking at your surrounds, going, "Cool!" I would say the Toy Story 2 surround mix was more active, but this mix is still very good. Here's something weird, my Canadian disc has the French language track as the default mix. You have to select English!

So for once, Disney hasn't tried to make you buy a bare-bones version of the film on disc, and then shell out for the deluxe edition later. You get all the joy on the initial, 2-disc release. This is a generous package. First of all, there's a feature-length commentary by director Pete Doctor, co-director Lee Unkrich, and executive producers John Lasseter and Andrew Stanton. As usual, this is a very fun commentary, with the participants enthusiastic, and full of information about their masterpiece. Complete with an amusing impromptu phone call mid commentary.

There are two animated shorts: one is the Oscar-winning For the Birds, which played before Monsters, Inc. in theaters. The other is a short made specifically for the disc, called Mike's Car. You have the now-standard outtakes reel (tons and tons of them). As well, there are several featurettes about the making of the film, from its earliest treatments to featurettes on the story, design, animation, and music and sound.

There are fun extras as well, like bits done for ABC and Japanese TV, and a game that has you looking for pieces of Boo's door. I quite enjoyed the bit about binaural recording, and the program for the pseudo-musical mentioned in the outtakes. Next, we have a multi-language clip reel done in an extraordinary thirty different languages. We also have two theatrical trailers, one teaser trailer, and three TV spots. Rounding out the package, we have a nice twelve page insert.

Pixar has another winner. Just go buy it.
Please help support our site by buying this DVD title through this link. Thank you kindly.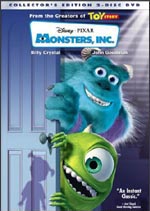 Purchase This DVD

Purchase Promo Poster

Story / Content



Audio



Video



Extras