MONTY PYTHON'S THE MEANING OF LIFE
Reviewed October 17th, 1999 by Staff
The Meaning of Life is the Pythons' last motion picture. Released in '83, the film's complete lack of narrative structure betrays the fact that the troupe could no longer work together. The film is a series of very good skits. The "Meaning of Life" nonsense is just an excuse to make fun of several philosophical ideas, most notably, religion. Despite the complete lack of plot, or maybe because of it, the Meaning of Life is absolutely hilarious. It's the old "Shambotic Sketch" on acid. You don't know where it's going, much like the Flying Circus. The film actually received the Cannes Film Festival Special Jury Prize in 1983.

The Meaning of Life shows Monty Python: the late Graham Chapman, John Cleese, Terry Gilliam, Eric Idle, Terry Jones (who also directed), and Michael Palin at their comedic best, in terms of performance.

The sketches which make up the film are very strong. They're far too numerous and silly to be described here. Suffice to say, this film will keep religious relatives away for a very long time.

The image is non-anamorphic and in 1.85:1 aspect ratio. The Meaning of Life looks much better than Life of Brian, or the Grail because the source is more recent. The image is still a little grainy, and not a demonstration disc.

The box purports that The Meaning of Life is in Digital Surround. Apparently this means 2.0 stereo. The sound isn't excellent, but it's O.K.

Python films are not technological marvels to start with, so it's a little unfair to look for that when a DVD is released. The Meaning of Life is the best looking and sounding of the bunch.

Again, no extra features. The chapter selections seem close to the defined sections in the film.

Wink wink. Nudge nudge. Criterion?
Please help support our site by buying this DVD title through this link. Thank you kindly.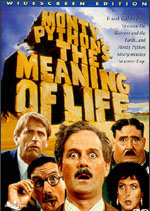 Purchase This DVD
Story / Content



Audio



Video



Extras