MUPPETS FROM SPACE
Reviewed November 25th, 1999 by Staff
Did'ja ever wonder just what the heck Gonzo is? Piggy's a pig (and a damn fine one at that), Kermit's a frog, etc. Well, Gonzo's been wondering the same thing (the chicken fetish is not explored). The Muppets all live together in a big old Victorian house. The house is full of chaos and soul music. In the middle of this mess, Gonzo grows restless at the fact that he might be alone in the universe. Conveniently, aliens start to contact the large nosed fellow. Gonzo begins to obey alien instructions, and his behavior is written off as typical Gonzo fare by all the other Muppets. A government agent, Larry Sander's Jeffrey Tambor, also becomes aware of Gonzo's extra-terrestrial messages. He must capture Gonzo to save his own reputation.

This is a fun movie. Everyone's favorites are back in this silly little adventure. Perhaps Fozzie is a little under-utilized. Muppets From Space is entertaining enough to keep the parents awake, and kids will certainly want to see this movie over and over. This film cannot compare to the original Muppet Movie, but it's good to see the gang back together.

The disc looks very good. The disc contains an anamorphic 1.85:1 transfer on one side, and Pan and Scan on the other. Color is everything here, and the movie delivers. There is eye candy, albeit childish stuff, everywhere.

The audio mix is Dolby Digital 5.1. The soul music (Brick House, etc) sounds very good in the front sound stage. The surrounds are put to good use occasionally. This is certainly not a full-blown Titanic surround mix, but it isn't bad either.

Muppets From Space is filled with extras. The "live commentary" feature from the Ghostbusters disc is used again here: the viewer can see the silhouettes of the participants in front of the image, as though the participants are watching the film. The beauty here is that the viewer gets live commentary from Kermit, Gonzo and Rizzo (and the director). This commentary track suggests a huge commitment to DVD from Columbia Tri-Star, as new production was completed just for the disc. The commentary is also quite entertaining. Other than the great live commentary, there are outtakes, a music video, trailers, etc.
Please help support our site by buying this DVD title through this link. Thank you kindly.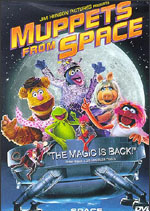 Purchase This DVD
Story / Content



Audio



Video



Extras