MY BIG FAT GREEK WEDDING
Reviewed January 30th, 2003 by John Randall
"There are two kinds of people: Greeks and everyone else who wish they was Greek"

My Big Fat Greek Wedding follows the story of Toula Portokalos (Nia Vardalos), a 30-year-old Greek woman who lives in Chicago and works in her family's Greek restaurant. She seems to be rather unhappy the way things are going in her life, and even though she has endless amounts of family around, she is still very alone.

Almost as a final effort to change her life around, she enrolls into some college courses, works on the way she looks, and later gets a new job. After becoming more comfortable in her revised circumstances, Toula gets to know a man named Ian Miller (John Corbett). Unfortunately, for Toula, Ian is not Greek and she knows that if they ever got married - she would break a long-standing tradition by marrying someone who was not Greek.

Not sure what to do, and not wanting to hurt her family, they keep their romance a secret. After being caught, Toula must then find out if her family will ever accept him, and if he can accept how different her family is.

It is impossible to put into words how funny this film is at times and it is hard to say why this movie is exactly so enjoyable. One thing is for sure - there are many moments that will keep you laughing. For example, watch for Toula's brother when he warns Ian not to hurt his sister, and do not forget about the little things like that handy-dandy blow-up pool used in a rather odd place.

What it boils down to is this is an excellent script. Nia Vardalos, who also wrote the story, is outstanding in the roll of Toula, and other cast members like Lainie Kazan who plays Toula's mother and Andrea Martin who plays Toula's aunt – are nothing short of hilarious. Even Joey Fatone of N' Sync fame might shock you a little in his performance as Angelo – one of Toula's cousins.

The video on this HBO DVD release is presented in 1.85:1 anamorphic widescreen and a separate 1.33:1 full frame option is available. Colors look good, the image is pretty sharp most of the time, flesh tones are accurate as well, but overall the image is not as strong and sharp as other modern-day films as there is some grain present.

The audio is presented in Dolby Digital 5.1 and is generally fine for the mostly dialogue-driven film. The bulk of the sound comes from the front speakers and surround use is at a minimum. Also, do not expect your subwoofer to get a good workout during this type of film.

The biggest disappointment in this release is the lack of any extras. Included is audio commentary track by director Joel Zwick, Nia Vardalos and John Corbett. Listening in gives great insight into the film and more on life as a Greek. Lastly, there is a biography section. Hopefully a full special edition will become available down the road giving fans a real look into the making of the film.

Every so-often you come across a film that works in a different kind of way. In fact, My Big Fat Greek Wedding proves that a PG-rated movie can still entertain the masses. Since the film will keep you laughing and entertained - it is easy to recommend giving this DVD a chance if you have yet to see it.
Please help support our site by buying this DVD title through this link. Thank you kindly.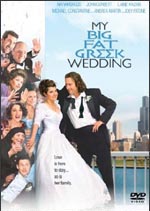 Purchase This DVD

Purchase Promo Poster


Title Has Easter Eggs

Story / Content



Audio



Video



Extras