MYSTERY MEN
Reviewed March 25th, 2001 by Todd Terwilliger
Based upon the comic of the same name by Bob Burden, Mystery Men follows the (mis)adventures of Mr. Furious (Ben Stiller), The Shoveler (William H. Macy), the Blue Raja (Hank Azaria), and their gang of not-so-superheroes.

When Champion's City protector Captain Amazing (Greg Kinnear) is captured by arch-villain Cassanova Frankenstein, Mr. Furious and company have a chance to grab the spotlight, thwart the villain, and save their brother-in-arms.

Having never read the comics, I came to Mystery Men without any preconceived notions about the heroes. However, once you get past their gimmicks, they don't have much to offer. Each hero has his own subplot. For instance, Furious is trying (and failing) to garner the attentions of the waitress at the local diner (Claire Forlani) and the Shoveler is becoming estranged from his wife. Unfortunately, these subplots are not terribly compelling.

Frankly, Mystery Men is short on humor. It moves along but I didn't find myself laughing very much. It is a film of chuckles without guffaws. The best scenes come when the film pokes fun at the mainstream comics of Marvel and D.C. The scene in which Captain Amazing rattles of the names of his favorite enemies is the funniest of the film.

Visually, Mystery Men is quite impressive. The Anamorphic 1.85:1 transfer is very clear, without many specks or grit. The film is dominated by dark colors and these are rendered well. Blacks are deep and, though I spotted some pixelation, mostly flawless.

The Dolby Digital 5.1 track is also well done. The surrounds are fairly active and there's good movement across the front soundstage. Dialog is sharp, as is the musical soundtrack.

Mystery Men has a full plate of extra features. There's a commentary by the director, Kinka Usher, a Spotlight on location, music highlights, an origin of the comic book characters, and the ubiquitous production notes and theatrical trailer. The commentary is solid. Usher gives a good accounting of his production process.

Mystery Men is a cold film. It has no heart or soul. While the special effects are nice and the cast is of high caliber, none of the characters are endearing. I never cared about them and the humor that was strived for never materialized. Unless you are a fan of the comic books, I'd steer clear. A mediocre rental, I can't recommend it for a purchase. Give it as a gift... to someone you only like a little.
Please help support our site by buying this DVD title through this link. Thank you kindly.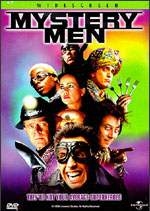 Purchase This DVD
Story / Content



Audio



Video



Extras