NASHVILLE
Reviewed July 29th, 2001 by David Nusair
Long before there was a Paul Thomas Anderson or a Martin Scorsese, there was Robert Altman. Altman pretty much invented the style of filmmaking that Scorsese and (in particular) Anderson now embrace - the idea that you can have multiple characters and multiple storylines, and weave between them as often as you like. But with Nashville, Altman fails at this simply because out of the 24 characters, only one is really compelling.

Nashville takes place (where else?) in Nashville, over the course of a few days as many different people live their lives and prepare for a rally supporting a fictional presidential candidate. Altman presents folks from all walks of life - there's a famous rock star, wannabe country singers, lonely housewives - and tells their stories in a method that's best described as haphazard. He never really spends enough time with any one character to make you care about them. And since there's no real plot, this method of filmmaking gets real old, real fast (and this is a 160-minute movie!).

But that would be okay if - as in Anderson's Magnolia or even Altman's far superior Short Cuts - there were at least a few characters worth caring about. But that's just not so here. Altman's more interested in presenting stereotypes, sort of as a way of painting a bigger picture of the country music business and of America in general at that time (the '70s). By the time the movie's over and all has been said and done, only one character really stands out - Tom, the self-loathing rock star played by Keith Carradine. In the film's only great scene, Tom has just bedded a married housewife (played well by Lily Tomlin) and, as she's getting ready to leave, he's already on the phone to another woman! That was a compelling scene, and it was made all-the-more-so by Carradine's excellent performance.

And finally, as if it wasn't enough that Nashville wears out it's welcome almost immediately, it's practically a musical. There's at least 45 minutes of just songs, which range from bluegrass to country to marching bands. Had Altman shaved some of these tunes, there's no way the film would plod along as badly as it does in it's current state. You really have to be a fan of this kind of music to enjoy most of Nashville.

But hey, Nashville is considered by many to be one of the best films to emerge from the '70s, so what do I know?

Audio: Nashville is presented in a remastered 5.1 soundtrack, which generally sounds quite good. The many songs sound amazing, but the dialogue sometimes sounds distant and tinny. But this is most likely an incredible improvement over previous versions of the film, so fans will certainly be happy.

Video: Likewise, this 2.35:1 anamorphic transfer will probably excite hardcore fans just as much. This is generally a good transfer (considering the age of the film), but during darker scenes, the image seems a little softer and lighter than it should be. And film artifacts are present throughout. But, again, considering how old this movie is, it's a fairly good-looking transfer.

Extras: The most prominent extra on the disc is a newly-recorded commentary track with Altman. And while he occasionally has some interesting things to say (such as the fact that all the cast members wrote their own songs), he just doesn't have enough to talk about. In fact, as the end of the film approaches, he disappears completely. Very odd. Far more useful is a 12-minute interview with Altman in which he essentially talks about all the important stuff he mentioned during the commentary (why he hired certain actors, what the Nashville community thought of the film, etc). Finally, there's a 1.85:1 anamorphic trailer, which, not surprisingly, has not aged too well.

Conclusion: Despite being a so-called classic, Nashville is a slow, plodding film that doesn't know when to quit. But for it's many fans, Paramount has assembled a DVD they're sure to treasure.
Please help support our site by buying this DVD title through this link. Thank you kindly.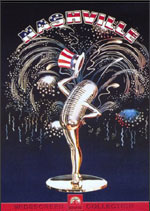 Purchase This DVD
Story / Content



Audio



Video



Extras