NATURAL BORN KILLERS
Reviewed February 4th, 2000 by John Randall
Woody Harrelson (Cheers), Juliette Lewis (From Dusk Till Dawn), Tom Sizemore (Strange Days), Tommy Lee Jones (The Fugitive) and Robert Downey, Jr. (Chaplin) star in Oliver Stone's masterpiece movie.

This is a strange movie from the start. The original story was written by Mr. Pulp Fiction himself: Quentin Tarantino.

Mickey and Mallory Knox (Harrelson and Lewis) team up and go on a wild killing spree. As the murders increase – so does their popularity. You see some murders, some reenactments, interviews and more. This movie just isn't for everyone. It is full of blood, drugs, senseless violence, sex and more. But the movie really does work on a dark degree.

Harrelson does a marvelous job as Mickey. His part if very believable. Tommy Lee Jones will make you laugh, but his character just isn't very good and Robert Downey, Jr. (with a terrible accent) has his moments as Wayne Gale (a reporter covering their story). Rodney Dangerfield even shows up as Mallory's father – but we'll save that for the movie so you can see for yourself.

This is a very graphic and eerie movie. Oliver Stone uses a mix of camera and film types and special effects.

The video is presented in 1.85:1 widescreen format and is not 16x9 enhanced. Overall, the picture is very good. It is sometimes hard to tell with the different film types if the image is bad because it is meant to be or not. The clear pictures are often very clear. You shouldn't be disappointed with this one.

The disc has a 5.1 soundtrack that for the better part of the movie does very well. The bass really works with this disc – a much improvement over the VHS release. In some of the slower points in the film (not many of them) the sound seems pretty dull but the louder segments do the disc justice.

The disc has some good extras on it too. Besides the director's cut of the film there is: an audio commentary by Oliver Stone, six deleted scenes, an alternative ending, trailers, a documentary, and some bios.

Overall, a very good disc from Trimark. The movie is NR (extreme R) and runs 121 minutes. Very recommended.
Please help support our site by buying this DVD title through this link. Thank you kindly.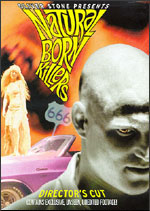 Purchase This DVD

Title Has Easter Eggs

Story / Content



Audio



Video



Extras