NICHOLAS NICKLEBY
Reviewed October 13th, 2003 by Brian White
Movie studios are picking up on the fact that there is a large audience for film adaptations of popular Victorian literature. Given that most of the stories involve aristocrats, the filmed versions are an excellent opportunity to show lovely ladies in beautiful dresses, and gentlemen in smart looking morning suits. Also, with the improving state of computer-generated scenery, some convincing backdrops can be created, providing greater verisimilitude.

Nicholas Nickleby is the latest in a crop of movies that have taken the literature of Charlotte Bronte, Jane Austin, Oscar Wilde and others. However, Nickleby challenges the film formula in a few ways. Bronte's and Austin's works deal with wealthy people who find themselves down on their luck. Wilde's stories are generally farces about people in wealthy circles. In these cases, you can find drama and comedy that does not really challenge the audience. Nickleby is a Dickens novel, and as such it contains social commentary about the time. So you see wealthy people, but they tend to be jackasses. And, you see people down on their luck, but they will probably die from this state.

The advertisement campaign for this flick showed plenty of flash and color, but the movie is much more than that. There is plenty of sugar, but it is bittersweet, given the paths the characters must take. This is a great movie, but it is no popcorn flick, like Ideal Husband or Importance of Being Earnest. The tragedy keeps the bubbly happiness from being too bubbly.

So despite being sold as a Wilde romp, Nickleby contains all the gravitas of Dickens. Bring the Kleenex.

Nicholas Nickleby is a beautifully shot and crafted film. The look is very rich. The darkness in the story is accompanied by suitably dark surroundings. The happiness is bathed in the idyllic style of Victorian decorating, and lovely nature photography. Costumes are very well done, and all aspects of filmmaking are quite commendable.

As great as the filmmaking, the performances are equally strong. While not the main character, Christopher Plummer is very good as Nickleby's uncle and nemesis. Nathan Lane, though in a smaller part, shows his chops. Jim Broadbent disappears in to Squeers and Juliet Stevenson is great as his nasty wife. Charlie Hunnam turns in a great performance as Nickleby.

Nickleby is a very well shot film, so it is only appropriate that it is transferred to DVD in a lovely 2.53:1 anamorphic transfer. The transfer is clean, clear and detailed. The color and photography are represented well. A full-frame version of the film is available on the flip side of the disc.

As for Audio, The Dolby Digital 5.1 mix presents dialog and music quite effectively. There is more than adequate use of the surround speakers for environmental effects, such as those in the London street scene. A note must be made about the wonderful score created by Rachel Portman. This music sounds great in the mix.

For extras, the disc contains a feature-length audio commentary by writer/director Douglas McGrath. He is full of information; given is obvious love and intimate connection to the piece. Plenty of stories about actors and themes are included. There are also a number of somewhat promotional behind-the-scenes bits about script, cast, sets, filmmaking, etc included. A multi-angle feature and some interview footage of the cast congratulating each other completes the package.
Please help support our site by buying this DVD title through this link. Thank you kindly.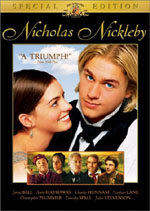 Purchase This DVD

Purchase Promo Poster

Story / Content



Audio



Video



Extras