NIGHTMARE ON ELM STREET, A
Reviewed September 3rd, 1999 by Staff
One - Two - Freddy's Coming For You...

New Line did a great job of remastering the cult original "A Nightmare On Elm Street" by creative genius Wes Craven. Nightmare was a low budget horror flick in the 80's that spawned a whole mess of sequels, and made Freddy Krueger and actor Robert England, a house hold name. Also starring in the film was Heather Langenkamp and a young Johnny Depp.

The movie is basically about "Fred" Krueger who killed children. Parents of the victims eventually killed him off after the law failed at keeping him behind bars. Years later, a few teens in the same town begin to dream of a disfigured man with a glove that has knives attached to it. One by one, each of the teens die in their sleep when Freddy takes his revenge on them.

The movie is presented in 1.85:1 widescreen format and is 16x9 enhanced. Also included is a pan & scan version of the film on the same side of the disc. You choose which one you want to watch after starting the film. The picture quality is excellent. No grain, scratches or compression problems can be seen. Black and color levels seem dead on. The transfer is not as exceptional as some movies made in the 90's, but due to the age of the film and the fact that it was low budget, the picture quality is more than impressive.

Audio is presented in a new 5.1 soundtrack as well as the original 2.0 mono soundtrack. The 5.1 soundtrack may not be as contemporary as newer movies, but it does very well. There is hardly any use of the surrounds and only on occasion does the .1 channel does some thumping. The 5.1 mix sounds much better than the 2.0 mono.

Supplemental materials include an audio commentary with director Wes Craven, the director of photography Jacques Haitkin, and actors Heather Langenkamp and John Saxon. Also included is biographies of the cast and crew and a 5.1 theatrical trailer. DVD-Rom extras include the screenplay, a trivia game and links back to the nightmare website.

Available separate or in the "Nightmare" box set available from New Line, this DVD is not only recommended to fans of the movie, but also to horror lovers everywhere. The movie is rated R and runs 92 minutes.
Please help support our site by buying this DVD title through this link. Thank you kindly.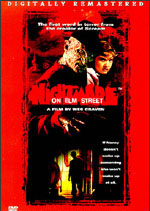 Purchase This DVD

Title Has Easter Eggs

Story / Content



Audio



Video



Extras