OBSESSION
Reviewed July 14th, 2002 by David Nusair
Brian DePalma's never made a secret of his fascination with Alfred Hitchcock. His films generally tend to utilize certain tricks and plot developments favored by Hitchcock, with several containing stories that are inspired by Hitchcock's work. Obsession, DePalma's least successful film, marked his attempt to modernize Vertigo to near disastrous results.

Cliff Robertson stars as a successful businessman who, as the movie opens, is celebrating a wedding anniversary with his wife (Genevieve Bujold). But that same night, a gang of kidnappers snatch his wife and daughter and demand half a million dollars for their return. Robertson initially decides to co-operate, but becomes antsy and calls the police. A rescue attempt goes horribly wrong, and Robertson's wife and daughter perish. Sixteen years later, Robertson is even more successful but haunted by the deaths. His partner (played by DePalma regular John Lithgow) convinces Robertson to join him on a trip to Italy, and after some initial apprehension, he reluctantly accepts. Once there, one of Robertson's first stops is the church where he met his wife. Strolling through the place, he stumbles upon a restoration artist who bears an incredible resemblance to his wife. He doesn't understand it, but decides to pursue a relationship with the woman. As with the majority of DePalma's films, nothing is what it seems and that's especially true here.

Obsession features an exciting opening and closing, but virtually everything that comes in between is a bore. The entire middle hour of the flick, with Robertson wooing his wife's lookalike, is just dull; we're never given a reason to care about Robertson's happiness. Right from the beginning, he's not a sympathetic character. That's most likely not the fault of Paul Schrader's screenplay; rather, Robertson's standoffish performance is the culprit. This is a guy who, at the outset of the film, routinely puts the concerns of his business over his family. When his wife and child tragically die after being kidnapped, he doesn't seem to care all that much. Why should we care, then, when he's offered the chance to start over again with this mysterious woman?

Not helping matters is DePalma's unusually restrained approach to the material. He can usually be counted on to deliver a film that at the very least looks impressive, if nothing else. But here, employing some incredibly distracting fog lenses, the film looks dirty and hazy. And given that a good portion of the film takes place in Italy, it's quite a feat to make that beautiful city look gray and drab.
The final twist, though it's certainly an improvement over the middle section, is awfully absurd and barely makes sense. But the whole enterprise seemed to be leading to something bigger, which makes the last revelation somewhat of a letdown. Obsession doesn't have a whole lot going for it – John Lithgow's over-the-top performance is one of the few bright spots – which easily makes it the worst of DePalma's movies (but his worst is still a whole lot better than most directors' best).

Audio: Obsession is presented with a DD 5.1 soundtrack, and it's acceptable. Rear sounds are virtually absent, though they do crop up from time to time. But dialogue is always clear and the music never drowns it out.

Video: This 2.35 anamorphically enhanced transfer has definitely not been restored for this release. Blemishes a-plenty are present here, and the whole thing just looks soft and fuzzy (though that probably has a lot to do with DePalma's choice of filters).

Extras: Surprisingly enough, the disc comes with a 38-minute doc on the making of the movie. It's very informative, with all the key players talking about the various steps that went into creating the film. DePalma is obviously the most interesting speaker here, which makes this a must for his fans. A trailer for the movie along with bonus trailers for Someone to Watch Over Me, Devil in a Blue Dress, and Against All Odds round out the content.

Conclusion: Obsession doesn't measure up against DePalma's other flicks. For die-hard fans only.
Please help support our site by buying this DVD title through this link. Thank you kindly.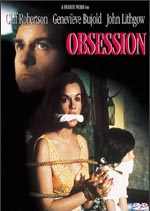 Purchase This DVD
Story / Content



Audio



Video



Extras