OCEAN'S ELEVEN (2001)
Reviewed May 5th, 2002 by Dan Jones
"Are you in or out?"

Steven Soderbergh's Ocean's Eleven is essentially a remake of the ratpack heist film of the 1960s of the same name; a film which included such names as Frank Sinatra, Dean Martin, Sammy David Jr., Peter Lawford, and Angie Dickenson. Yet, this supposed remake hardly draws anything from its predecessor, other then the general idea, which is good, as the 1960s film was no standout by any means.

The general plot of Ocean's Eleven is somewhat simple. We have the parole of con-artist/thief Danny Ocean at the start of the film. Within five seconds he begins to assemble a team of thieves to take down three Las Vegas casinos, simultaneously. With the help of longtime friend Rusty Ryan, they soon form "Ocean's 11", the group that will do attempt this feet of Las Vegas thievery. Oh, and one more thing, Danny Ocean's ex-wife "Tess" is dating the owner of these casinos; and Danny still wants to be with her.

Where Ocean's Eleven really shines is in its huge star power. With a cast of George Clooney, Brad Pitt, Matt Damon, Julia Roberts, Andy Garcia, Don Cheadle and Carl Reiner, it is no surprise that the film grossed huge numbers at the box office. All the players put in strong, unique roles; you can tell that these people had an enjoyable time making the film, as it all seems to transfer to the screen. We also get some amusing cameos throughout the film, perhaps my favorite being Pitt's character training a group of true young Hollywood stars to play Poker; Topher Grace of "That 70s Show" probably being the most amusing of the group.

Ocean's Eleven is really just great entertainment out of Hollywood for a change. The movie does not take itself to seriously, and the characters in the film seem to follow this same characteristic. It's just a fun, well-acted, not easily predictable caper that does a lot of things well, without doing hardly anything wrong. The film is not meant to have any kind of greater impact on the viewers life when the credits role, its just true escapist fun, and that's all I really wanted out of it.

For the DVD release, Ocean's Eleven has been given the dreaded full-screen and widescreen separate releases. To me, I don't see their being much of a draw to the full screen version for a film like this; I've heard over and over and over again that families supposedly like full screen better; but let's be honest, Ocean's Eleven is not a family film with its PG-13 rating; I doubt many five to ten year olds will be watching. But, alas if Warner wants dual releases well then so be it, I just hope it's not indicative of things to come. This review will of course cover the widescreen edition.

Presented in 2.35:1 anamorphic widescreen, Ocean's Eleven has received a fairly strong transfer. Sorderbergh has not created a film that is easily presentable on the format, with some very strange palettes, often overly dark or over concentrated. Nevertheless, Ocean's Eleven looks relatively strong. The print is blemish free, and darks and blacks are very strong. Contrast quality changes wildly from shot to shot, as does the amount of grain that seems to show up in different quantities throughout. The image is quite detailed, and compression artifacting is kept fairly low (although it is noticeable at times). Overall, Ocean's Eleven is a tough film to properly transfer; Warner's done a fairly good job, but I believe it could be better, perhaps in a future Limited Edition Titanium Super Ultra Special Edition release.

Audio wise, Ocean's Eleven has been given a good 5.1 Dolby Digital mix. This is not reference quality by any means, coming off somewhat muted to me... it seems more "zing" or "pop" could have been added to the mix to make it a bit more aggressive, and a bit more enveloping. Dialogue is good, although not as well defined as it could have been. Surround use is not very strong, mainly just used by the score. It seems for the budget the film was made on, plus the money it made in the box office, the DVD would have a more aggressive 5.1 mix... but it just doesn't seem to happen here. This is all not to say the 5.1 mix is bad, not by any means, I was just expecting more due to its box office numbers. A 2.0 track is also included.

For extras, Warner has done a decent job of supplementing the film. Starting it off we have two audio commentaries, one from Sorderbergh and Ted Griffin, and one from Matt Damon, Andy Garcia, and Brad Pitt. Both tracks have their perks; the director track is obviously more film orientated then the actor track. Damon, Garcia and Pitt's track is quite a listen though, poking a lot of fun at the movie, and Clooney specifically. They also make fun of commentaries themselves, saying that there are probably only five people listening.

Next up, we have the promo fluff piece from HBO, "The Making of Ocean's Eleven." We do get some good interview material from Sorderbergh and some of the cast, yet no real "Making Of" information can be found, making me think they should maybe change the title to "Spoilers of Ocean's Eleven" or "The Nothing to do with Making of Making of Ocean's Eleven." Although, its worth a watch if only for the interviews.

Next up, we have "The Look of the Con" which gives us a fairly in-dept look at the costuming that went into the film from designer Jeffrey Kurland.

Finally, we have the standard filmographies, the theatrical trailer, and two teasers. Oh, we are also given a somewhat amusing game via your DVD-ROM entitled "Are You In or Out?"

Overall Ocean's Eleven is one of the most amusing movie's of the year. The film has solid acting, an incredibly deep cast, and a good well throughout caper story that is sure to keep you intrigued for its 116 minute run-time. The DVD release from Warner has done a relatively good job of presenting the film; plus provided us with two nice audio commentaries that are definitely worth a listen. Just remember to pick up the widescreen version. Recommended.
Please help support our site by buying this DVD title through this link. Thank you kindly.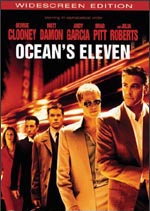 Purchase This DVD

Purchase Promo Poster

Story / Content



Audio



Video



Extras