ONCE UPON A TIME IN MEXICO
Reviewed February 12th, 2004 by Dan Jones
"You've got nothing to live for... and in a way you're already dead, and Marquez is the one that killed you, so why not return the favor?"

Once Upon a Time in Mexico, the final film in Robert Rodriguez's "El Mariachi" trilogy, proceeds as did the films before it, with a greater budget and more action, all while keeping the entertainment factor fairly high, even if it seems to get slightly too ambitious with its convoluted story-telling and numerous cameos.

The film starts out with Mariachi in a small Mexican town; his wife Carolina (Salma Hayek) is dead, killed by General Marquez (Gerardo Vigil). Soon, Sands (Johnny Depp), a somewhat insane CIA agent, shows up to tell Mariachi of a plot by the General and a drug cartel lead by Barillo (William Dafoe) to assassinate the Mexican President and destabilize the region. Knowing of Mariachi and his tie to the General, Sands believes he can convince Mariachi to come out of retirement to seek revenge against the man that killed his wife. Ultimately he does and he and his group set out to find the General.

Adding to this storyline is Sand's ability to play both sides against each other, informing Barillo that Mariachi is on his tail. Sands is also able to bring in a number of other people, who consequently bring in more people to work towards Sands ultimate goal: balance ("That's what I do. I restore the balance to this country")

As for the DVD, Once Upon a Time in Mexico was shot on new High-Definition Sony digital cameras. In theaters the film was matted to a 2.35:1 aspect ratio, but for DVD, Rodriguez went with a 1.78:1 anamorphic widescreen presentation. The resulting transfer is reference quality, with exceptional detail, a rich color palette, and an overall three-dimensional image. No compression problems were noticed, nor edge enhancement issues.

For audio, we are given an excellent Dolby Digital 5.1 mix. This mix has impressive dynamic range, excellent use of surround sound during the action scenes, and a powerful low-end presence. While more ambient sounds would have been nice throughout the points of the film that do not have intense action, what we have here is very solid. Dialogue clarity is pristine throughout.

Starting off the extras we have two information packed audio commentaries by the man behind the Mariachi series: Robert Rodriguez. In the first commentary, Rodriguez attempts to cover every aspect of the film making process, offering a relentless stream of information seemingly without ever taking a breath. If you want to know about making films, definitely give this one a listen. The next commentary deals with scoring the film and sound effects, providing us with a 5.1 track without the film's dialogue so a viewer can focus on the audio track while listening to Rodriguez point out aspects of what he did. Again, a must see for those budding filmmakers out there.

Next we have 10-Minute Film School, which Rodriguez uses primarily to talk about the benefits of shooting films in HD rather then using traditional film mediums. His support for this claim comes in the way of economics (digital is far cheaper), the ability to immediately review a shot and move on, as well as the ability to easily add visual effects and remove imperfections. This belief is further stressed in the next featurette, "Film is Dead," shot in front of a live audience at Sony Studios.

In 10-Minute Cooking School Rodriguez furthers his teaching abilities by providing the recipe and showing us how to cook the pork dish that Depp eats in the film.

Next we have four deleted scenes with optional commentary from Rodriguez. Nothing too tantalizing here; scenes simply cut to keep the film moving and within the desired length.

Anti-Hero's Journey is a featurette that shows Mariachi's evolution from film to film, as well as a bit more information on "Once Upon a Time." There are behind the scenes clips here but more or less we've seen a lot of the information on the first two films from their DVD releases.

Rounding it out we have a filmographies section and a number of trailers, two of which are for Once Upon a Time in Mexico.

Overall, Once Upon a Time in Mexico is an enjoyable film. While the story is a bit convoluted at times, the performances are solid and the action sequences are more of what we have come to expect from Rodriguez. With superb video and audio quality and a nice supplement of extras, if you're a fan of the Mariachi story or popcorn flicks, this is an easy recommendation.
Please help support our site by buying this DVD title through this link. Thank you kindly.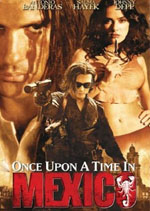 Purchase This DVD

Purchase Promo Poster

Story / Content



Audio



Video



Extras