ON DEADLY GROUND
Reviewed July 10th, 2000 by David Colby
On Deadly Ground is the title of Steven Seagal's latest adventure. On Deadly Ground spawns from the environmental pollution that the oil industry is causing on our green earth. Seagal is Forrest Taft and works for a huge oil tycoon who is one of the offenders. Taft has an awakening and becomes the force of mother earth as he takes down the big guys. Seagal is faster then ever and will get your adrenaline pumping! Not a movie for the kids due to the violence.

The audio is presented in Dolby Digital 5.1 and is superb. You will hear and feel every bloody nose, every gun fire and every explosion. The audio is loud and clear and will rock your butt if you have the right equipment.

The video as has been consistent with the entire Seagal series is that both fullscreen and widescreen are provided. The widescreen consistent with the others is presented in 1.85:1 ratio and is enhanced for 16:9 TV's. It too is a hair soft just like the other Seagal films. Still a huge increase in clarity over its VHS counterpart.

The Extra's are sickening on this one. The worst of the series with absolutely nothing! Yes, you will be treated to nothing, no production notes, no commentary, no deleted scenes, NADA! You can pick this DVD up for under $12 in some places and I have a feeling that the extra's are exactly why. Still if you like action and you like Seagal get this puppy now!
Please help support our site by buying this DVD title through this link. Thank you kindly.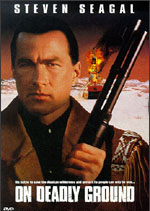 Purchase This DVD
Story / Content



Audio



Video



Extras