ONE NIGHT AT MCCOOL'S
Reviewed November 30th, 2001 by David Nusair
Beauty is, of course, completely subjective. One person's ugly duckling is another's beautiful swan. It's for this very reason I found a large portion of One Night at McCool's difficult to swallow.

Liv Tyler stars as a sexy vixen that's able to coerce men into doing whatever she wants them to do – simply by becoming their fantasy. The three men of the picture – Matt Dillon, Paul Reiser and John Goodman – have different fantasies and Tyler taps into each without difficulty (Goodman wants a carbon-copy of his recently deceased wife, Reiser wants a sadomasochistic relationship, while Dillon wants a housewife/slut). The bulk of the film is told in flashback, as each man relates the story of how Tyler caused their downfall to someone. Eventually, the three stories intersect, culminating in a bizarre Tarantino-esque shoot-out.

The biggest problem with One Night at McCool's is Tyler. She's not a bad actress – with the right material she can be quite appealing – but this role is just all wrong for her. Given that she looks like a 10-year-old boy, it's a little hard to accept that these three guys would fall so completely in love with her. This is a role that should have been filled by an actress like Charlize Theron – someone who exudes sexuality. Instead, you've got Tyler – a pretty, but nondescript actress that seems like she would be more at home playing a tomboy.

But even if Tyler's role were to be recast, this would still be a lousy movie. It's so wrapped up in its quirkiness; it never settles down and becomes anything. It jerkily jumps from comedy to drama to out-and-out action without hesitation, causing confusion and irritation for the viewer. As Quentin Tarantino proved with Pulp Fiction, this isn't necessarily a bad thing – provided it's done right. But in the hands of director Harald Zwart, this genre-shifting quickly becomes tiresome. It's no surprise that Zwart got his start in commercials; you can almost see him losing patience a few minutes into each sequence.

The performances – other than Tyler, of course – are fun though, especially Michael Douglas as a cheesy, '70s style hitman. And the comedian formerly known as Dice is here, too, except under the name Andrew Silverstein. But no matter how good the actors may be, it doesn't make up for the incredible lameness of the script. As a freebie One Night at McCool's might be worth a look, but otherwise you'd be better off spending a night at your local bar, getting hammered. Oh, and I feel compelled to mention one thing about this movie that really bugged me. Throughout the movie, Tyler's character is obsessed with stealing a DVD player. But she (and the other characters) refer to it as "the DVD". It's a DVD player, not a DVD. This really irritated me, and made the movie seem even suckier.

Audio: This DD 5.1 soundtrack is just the sort of underachiever the movie is – it's semi-adequate, but you could do a whole lot better. Even in scenes that should be bursting with sound and turning your room into a warzone – such as that shoot-out at the end of the picture – the sound is somewhat lacking.

Video: This anamorphically enhanced 1.85:1 transfer is decent, though nowhere nearly as good as some higher profile releases of late. The transfer seems a little too dark and grainy, though that could be the fault of the film stock employed. It is a clean picture, though, and I suppose that's all one can ask.

Extras: First up is a 9-minute behind-the-scenes look at the making of a couple of sequences from the film. This isn't one of those polished, HBO featurettes, so there is some info to be had here. Mostly, it's a guy with a camcorder following people around the set or just hanging around while a scene is shot. Next up are two music videos, "Velvet" by didn't-they-break-up-once-the-'80s-ended band a-ha and Joan Osbourne's "Love is Alive". Next is four deleted scenes and an alternate ending – all accompanied by director commentary. These deleted sequences and the different ending are about as interesting as the rest of the movie, so if you enjoyed the flick, you'll no doubt get a kick out of these scenes. The odd thing is, though, is that they're accompanied by commentary even though the movie itself isn't. Strange. Next up is a 1 and a half minute look at some make-up and costume tests, all featuring Liv Tyler in various wigs and outfits. Another short featurette is next, this time featuring 2 minutes of the cast at the first read through. The read through itself is shown in a small screen at the top right corner while the actual sequence plays out. Next up is an interesting little feature called "Where did we shoot that?" and as you might imagine, it's a map of the greater Los Angeles area with the various locations selectable. Once you choose a location (usually a character's house), you see a picture of the spot accompanied by director commentary. These all last between 30 and 60 seconds. Lasting close to 10 minutes is the next feature, a storyboard-to-film comparison – with the storyboards on the top of the screen and the actual movie on the bottom. You can watch either the opening or closing sequence. The most interesting of these mini-featurettes is easily the last one, entitled "How we killed Paul Reiser." This is fairly self-explanatory. The disc is rounded out with a trailer and four TV spots.

Conclusion: One Night at McCool's is a good example of why Quentin Tarantino should be the only one making these sorts of movies.
Please help support our site by buying this DVD title through this link. Thank you kindly.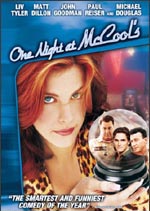 Purchase This DVD
Story / Content



Audio



Video



Extras